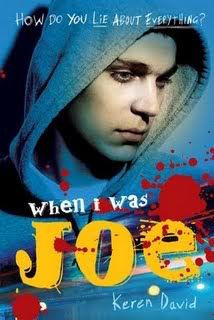 When I Was Joe by Keren David (review copy)
-
When Ty witnesses a stabbing, his own life is in danger from the criminals he s named, and he and his mum have to go into police protection. Ty has a new name, a new look and a cool new image life as Joe is good, especially when he gets talent spotted as a potential athletics star, special training from an attractive local celebrity and a lot of female attention. But his mum can t cope with her new life, and the gangsters will stop at nothing to flush them from hiding. Joe s cracking under extreme pressure, and then he meets a girl with dark secrets of her own. This wonderfully gripping and intelligent novel depicts Ty/Joe's confused sense of identity in a moving and funny story that teenage boys and girls will identify with - a remarkable debut from a great new writing talent.
From Amazon UK
When I first heard about this book, I wasn't too keen. The idea of a book on knife crime just didn't appeal to me; living in London, you see news reports on it all the time, and living in East London, they happen not too far from home. It's not really something I wanted to be reminded of in a book. But I started this blog to read YA of all genres; if I can read historical fiction and enjoy it, I can read something on violence - so I decided to give When I Was Joe a go, and I am so glad I did!
This book is just brilliant! Really, just so good! Reading the first few pages, I was reminded quite a bit of things that have happened near me, to people I know, or to people I knew of, and I thought I would find it such a hard read. But it was great! It's not all violence; once Ty and his mother Nicki are rehouse with new identities, it mainly follows Ty - now Joe - coming to terms with his new life, and becoming a new person. Ty makes Joe someone he wants to be; someone cool, someone who has friends, someone strong, and people flock around him. Joe is popular, Joe is a brilliant athlete, Joe could have his pick of any of the girls. But Joe is really Ty, and he can't escape what he saw, and the threat he constantly fears.
When I Was Joe is more than just an entertaining read; it was fascinating seeing how it works when someone goes into the witness protection programme. From TV, you know these witnesses aren't allowed to contact anyone, but I didn't really realise how cut off they are, and how they have to distance themselves. It was great seeing Joe trying to compromise what he was supposed to do with what he actually wanted, and the lies he always had to tell.
There were a great cast of characters, some who had more important roles than others; Ellie, who trained Joe, is disabled, Claire, Ellie's sister and a girl in Joe's class, has her own issues, and Nicki, who doesn't adjust to the new life well. And Joe himself is just great seeing him change back and forth between the two people he is. They're all just so interesting!
This is just such a fantastic book, and one everyone should read. It really opens your eyes to what might actually happen in such a situation, and could really educate and dissuade people to carrying knives; this story is fictional, but it could very much happen. Such a brilliant book, I'm so glad I read it! I highly recommend it, and I can't wait to read the sequel, Almost True!
Thank you to Keren David for sending me a review copy.
Published:
7th January
Publisher:
Frances Lincoln Children's Books
Pre-order on Amazon UK
Pre-order on Amazon US
Keren David's Blog
Other Reviews:
Nayu's Reading Corner
The Bookette
Chicklish
So Many Books, So Little Time