Keren David, author of When I Was Joe, has kindly let me interview her about her debut release. Thank you, Keren, for taking time out of your busy schedule to answer some questions!
Can you tell us a little about yourself?
I grew up a small town in Hertfordshire, desperate to escape to London, the big city. But every time I've lived in London something has dragged me away - first to Glasgow, where I lived for two years, then to Amsterdam for eight years. We've been back in London for two years now, but I don't feel exactly settled.

I've worked in journalism since I was 18 and got a job as a messenger girl on a newspaper. I've been a news reporter, feature writer, news editor and comment editor on local and national papers, dailies and Sundays. In Amsterdam I worked for an agency which sold features to magazines around the world. Now I do freelance journalism - I can turn my hand to most things but news editing is my favourite journalistic job.

When I came back to London from Amsterdam my friend Anna suggested that I took a course in Writing for Children at City University. She made the suggestion on January 5 2008 – and two years and two days later When I Was Joe, the book I wrote on that course, is going to be published. I'm very grateful to Anna, and to Amanda Swift the fabulous tutor on the course.

How did you come up with the idea for When I Was Joe?
I was watching the news and there was a story about a young boy who had to go into witness protection. We'd just moved back to London from Amsterdam, and were coping with the trauma of new schools, new friends etc. I could easily imagine how much more difficult it would be to have to cope with new names, enormous fear and no contact with your old life.
What research did you have to do for When I Was Joe? Was there anything you found that surprised you?
I read a lot about witness protection and knife crime. I also talked to a barrister who had worked with protected witnesses. I already knew quite a bit from my days as a news editor, but I was surprised at how patchy witness protection is in the UK - there's no national scheme, and how sometimes the police fail to protect people properly.
When I Was Joe deals with some serious subjects. Did you find it difficult to write when addressing these issues?
Not really, as my background is news journalism I'm used to writing about serious subjects. It was interesting and fun to tackle them in fiction. I didn't want to scare readers off with everything being deadly serious and scary, so I tried to inject humour into the book as well.

How was your route to publication?
Quick but bumpy. I wrote the first draft of When I Was Joe very quickly, and immediately started querying agents because the subject matter was so topical. I got some rejections, and then, just as I was starting to despair, three offers of representation in one week. Once I'd signed with Jenny Savill of Andrew Nurnberg Associates, she started approaching publishers. Again there were rejections - all for different reasons, which was confusing - but happily Frances Lincoln Children's Books made a two book offer, followed a few months later by an offer from DTV for the German rights.

Working with the team at Frances Lincoln has been great, my editor Maurice Lyon made various suggestions which made the book better, and Jane Donald designed a gorgeous cover.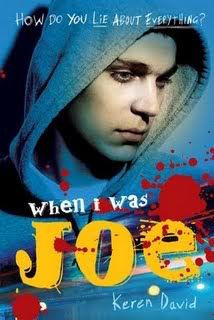 How does it feel to know your book will soon be in the hands of readers?
It's exciting! Of course the big fear is that no one will buy it at all.
Tell us about how you write; do you write in a particular place? Do you have any music playing? Do you have any must-haves with you while writing?
Physically writing When I Was Joe was a complete nightmare. My husband and I were sharing a computer and a desk, and we were always squabbling over it. The book got written in fits and starts whenever I could grab the keyboard and kick him out of the room.

It caused so much friction that we decided to invest in a laptop for Almost True, which I thought would be easier, but he kept the workspace, so I've been working at the dining table which is awful - constant interruptions and noise. I managed to write the book, but I need a better solution. I might try borrowing someone's house or working at the library. In an ideal world I'd have my own study…I can dream…

Sadly, I can't write with music on - I need to hear the words in my head. Sometimes though I listen to Ty's sort of music before I start, to get me in the mood. The internet is another big distraction.

My biggest must-have is my writing group, which we set up after the City University course. The help criticism and support I get from the brilliant women there is essential.
Have you always wanted to be an author?
When I was at primary school I wanted to be a 'lady writer' and write children's books. I then discovered journalism and nearly forgot my early ambition. But when I came back to England I remembered it again, and it seemed like the right time to have a go.
What was most surprising to you during the writing process? And the publication process?
I was surprised how easily I transformed into a 14 year old boy. And the publication process seems very slow to me - remember I'm used to daily newspapers - although I appreciate that less than two years from starting writing to publication is actually very fast.

Can you tell us a little about what we can expect from Almost True, the sequel to When I Was Joe?
Here's the latest version of the back cover blub for Almost True.
This isn't the first time that someone's tried to silence me forever. It's just the first time that someone else has died instead.

Ruthless killers are hunting Ty. The police move him and his mum to a quiet seaside town. But a horrific attack and a bullet meant for Ty prove he's not safe yet.

On the road again, Ty's in hiding with complete strangers . . . who seem to know a lot about him. Meanwhile he's desperate to see his girlfriend, and terrified that she may betray him. Ty can't trust his own judgement and he's making dangerous decisions that could deliver him straight to the gangsters.
Ohh, exciting! Anything else you would like to add?
I started blogging this year, thinking I'd write a bit about the books and the path to publication. In fact I ended up writing about anything and everything. I love the freedom of blogging and I've met some great people though it. So I'd love to gather more followers on http://www.wheniwasjoe.blogspot.com/ and that if people read the book and want to get in touch they'll do so via the blog.

Thanks Jo for interviewing me and for reviewing my book.
You're welcome, thank you for letting me interview you! Make sure you all check out
my review of When I Was Joe
, and get your hands on a copy!