Until last year, I only thought there were two reactions to hype; where you think a book deserved the hype because you loved it so much, or where you think it didn't because you hated it. But then I discovered a third. One that I can only describe as a mix of disappointment and confusion. Not because a book was bad, but because I've read better.
I experienced feelings of disappointment, because although the books were good, as I've read better, I'm not sure they deserve all the hype they received, and also confusion because, why aren't the other books hyped? Why this one over them?
The books in question are
The Monsters of Verity duology
-
This Savage Song
and
Our Dark Duet
by
V. E. Schwab
. I really enjoyed them! They were exciting and dark, they dealt with moral questions, there was so much action and violence, and Schwab didn't shy away from hurting her characters. But I've also read books that were more exciting, that had more action and violence, where I actually cared
more
about the characters. And yet I'm not sure I know anyone who has read some of - though not all, as you will see - the books I'm thinking of.
Perhaps most people just haven't read much urban fantasy? I consider The Monsters of Verity duology to be urban fantasy, even if they're set in a future American territory. So yeah, maybe readers haven't read many books in the same genre. On the off chance that that's the case, I thought I would recommend some of my favourites. I could recommend so many, and readers are in for such a treat - though they are, for the most part, adult.
The Soul Screamers series by Rachel Vincent
Something is wrong with Kaylee Cavanaugh...

She can sense when someone near her is about to die. And when that happens, a force beyond her control compels her to scream bloody murder. Literally.

Kaylee just wants to enjoy having caught the attention of the hottest boy in school. But a normal date is hard to come by when Nash seems to know more about the dark forces behind Kaylee's power than she does.

And when classmates start dropping dead for no apparent reason and only Kaylee knows who'll be next, she realises that finding a boyfriend is the least of her worries!
From Goodreads.
This series is likely to be right up the street of fans of The Monsters of Verity duology. Full of demons, some fae, grim reapers and more, this series is action packed, fast paced, and has you sitting on the edge of your seat. And it has a Netherworld that rivals (maybe) the Upside Down in Stranger Things!
The Shifters series by Rachel Vincent
The difference between the movies and reality?

In real life, I was the monster.

Faythe Sanders looks like an ordinary student, but she's hiding a dark secret: she is a werecat, a powerful supernatural predator. Yet headstrong, independent Faythe resents her power, heading to college to escape her family and her overprotective ex, Marc.

That is until a stray – a dangerous werecat without a pride or territory – catches her scent. With two werecat girls already missing, Faythe is summoned home for her own protection.

But Faythe will do whatever it takes to find her kidnapped kin. She has claws – and she's not afraid to use them.
From Amazon.
I can't tell you how much I love this series! This wonderful series features around a family of werecats. We all know werewolves, but this series takes weres in a completely different direction. Werecats can shift at will into panthers, and their world is so brilliantly built! There are different clans of werecats - as well as other wereanimals - and there is politics and alliances and enemies. And always action and danger, and a spunky heroine in Faythe. Faythe goes on quite a journey over the course of the series. She makes bad decisions, and she grows up, and finds a head for the politics of her kind. Such a fantastic, action packed series! This isn't YA though, and does include sex scenes.
The Cassie Palmer Series by Karen Chance
Cassandra Palmer can see the future and communicate with spirits - talents that make her attractive to the dead and the undead. The ghosts of the dead aren't usually dangerous; they just like to talk...a lot.

The undead are another matter.

Like any sensible girl, Cassie tries to avoid vampires. But when the bloodsucking Mafioso she escaped three years ago finds Cassie again with vengeance on his mind, she's forced to turn to the vampire Senate for protection.

The undead senators won't help her for nothing, and Cassie finds herself working with one of their most powerful members, a dangerously seductive master vampire - and the price he demands may be more than Cassie is willing to pay...
From Goodreads.
Karen Chance is the Queen of Action - I have never read books that are quite as action packed as the Cassie Palmer series, and the Dorina Basarab series below. There is almost no let up for Cassie in this series. It's always full throttle with danger guaranteed to be imminent. It takes real skill to have so many action scenes in a book - in a series - and have them different enough, and full of suspense enough to keep the reader reading and not getting bored. No action scene is alike, but there a bucket loads of them. I know a lot of people seem to think so, but vampires are not yet dad (ha!), and with mages, some fae, and demons, too, there's a lot going on! Plus actual historical figures make a few appearances throughout the series. I bloody love these books! Again, some sex, but not that much - Cassie doesn't really get enough down time, to be quite honest. She's always trying to keep herself alive.
The Dorina Basarab Series by Karen Chance
Dorina Basarab is a dhampir - half human, half vampire. Subject to uncontrollable rages, most dhampirs live very short, very violent lives. So far Dory has managed to maintain her sanity by unleashing her anger on those demons and vampires who deserve killing.

Now Dory's vampire father has come back into her life. Her Uncle Dracula (yes,
the
Dracula), infamous even among vampires for his cruelty and murderous ways, has escaped his prison. And her father wants Dory to work with gorgeous master vampire Louis-Cesare to put him back there.

Vampires and dhampirs are mortal enemies, and Dory prefers to work alone. But Dracula is the only thing on Earth that truly scares her, so when Dory has to go up against him, she'll take all the help she can get...
From Goodreads.
The Dorina Basarab series is a companion series to the Cassie Palmer series. The master vampire mentioned in the description for Touch the Dark? He's Dorina's father. Although two separate series, their stories take place simultaneously, and so, occasionally, there's some overlap. There are characters from the Cassie Palmer series that show up in the Dorina Basarab series and have a more prominent role, which is great if you loved a character you read previously. Also, Dorina has trained to fight, and so is very kickass. While Cassie becomes more kickass as her series goes on, she's a seer, and she's mostly just trying to stay alive when various factions want possession of her for her powers. Dorina however actually goes after the bad guys. Again, there's sex in this series.
Although separate stories than
can
be read without the other, I'd still recommend reading them in order of events. The order is Touch the Dark (CP), Claimed by Shadow (CP), Embrace the Night (CP), Midnight's Daughter (DB), Curse the Dawn (CP), Death's Mistress (DB), Hunt the Moon (CP), Fury's Kiss (DB), Tempt the Stars (CP), Reap the Wind (CP), Ride the Storm (CP) and Shadow's Bane (DB), which came out in July this year.
The Night Huntress Series by Jeaniene Frost
Flirting with the Grave...
Half-vampire Catherine Crawfield is going after the undead with a vengeance, hoping that one of these deadbeats is her father - the one responsible for ruining her mother's life. Then she's captured by Bones, a vampire bounty hunter, and is forced into an unholy partnership.

In exchange for finding her father, Cat agrees to train with the sexy night stalker until her battle reflexes are as sharp as his fangs. She's amazed she doesn't end up as his dinner - are there actually good vampires? Pretty soon Bones will have her convinced that being half-dead doesn't have to be all bad. But before she can enjoy her newfound status as kick-ass demon hunter, Cat and Bones are pursued by a group of killers. Now Cat will have to choose a side . . . and Bones is turning out to be as tempting as any man with a heartbeat.
From Goodreads.
Oooh my gosh, I love this series! And again - vampires are not dead! This first book is awesome, but it's really the set up for what comes later - the second book in the series happens a few years later, when her vampire hunting becomes... let's say a little more official. Cat and Bones make quite the team, and this series has brilliant story after brilliant story! There's a wide range of brilliant secondary characters, and you come to care about them all. This series is definitely urban fantasy, but there is a definite romance streak that is quite prominent, and I just love it! Again, sex scenes.
Night Huntress World stand-alones and Night Prince series by Jeaniene Frost
Now the first two above are stand-alones set in Cat's world, companion novels, which feature secondary characters from the Night Huntress series - friends of Bones. These are more paranormal romances than urban fantasies - there's a lot more sex, and have the embarrassing covers to go with it.. Saying that, they're still also really action packed, and Cat and Bones make an appearance.
The Night Prince series is a companion series that was originally intended to be just another stand alone, but Vlad's story just couldn't be contained to one book. Yup, it's
that
Vlad - Vlad the Impaler, aka Dracula. Only don't call him that, he doesn't like it, and is really quite peeved by the human who was so obsessed with him he wrote this fictional story that isn't really all that true anyway. There is a little more sex in these books than the Night Huntress series, but not quite as much as the other two, and the focus is on the action and danger, though the romance is reason for all the action and danger. And god, I just love Vlad, he's so awesome!
The Spellcrackers.com Series by Suzanne McLeod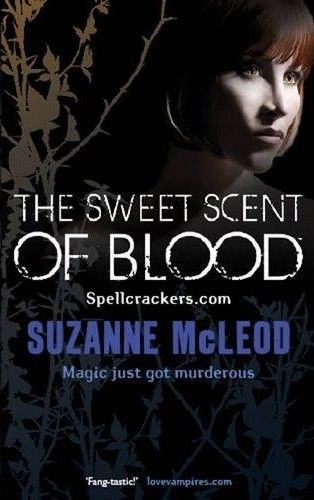 'My name is Genny Taylor. I work for Spellcrackers.com. It's a great job, pays the rent, lets me do the thing I'm good at – finding magic and cracking it – and the bonus is it's run by witches, which stops the vamps from taking a bite out of me.

Not that vampires are the big bad any more, not since they launched a slick PR campaign – ­ oh, and they brought the goblins on board. Now the vamps are sought-after celebrities, and Getting Fanged and taking the Gift are the new height of all things cool.

But only if you're human.

And I'm not.

I'm Sidhe fae.

And I know firsthand just how deadly a vampire can be.'

When Mr October, a sexy calendar pin-up vamp, is accused of murdering his girlfriend, an old debt is called in and Genny is forced to help prove his innocence, risking her job and the protection it offers – and threatening to expose her own dark secrets. Searching for the killer plunges Genny deep into the hidden heart of vampire society. It's not long before she realises that she and Mr October are both unwitting pawns in a centuries-old power struggle between London's non-human communities . . . and it's not just her own neck that's at stake, but the lives of all London's supernaturals.
From Goodreads.
Hey, look, more vampires! But also a hell of a lot of other creatures, too - quite a few fae, with a sidhe as it's heroine. I love this series, I love that it's written by a British author, and I love that it's set in London. Again, action and magic and danger, oh my god, I just love it! And also, despite the huge amounts of chemistry between Genny and maybe a couple of other characters, there is very little if - if memory serves me correctly - any sex at all. I'm pretty sure there's none, but I wouldn't want to put a bet on that. Also, trigger warning for attempted rape in the second book, I believe. And again, another incredible cast of characters!
The Morganville Vampires series by Rachel Caine
From the author of the popular Weather Warden series comes the debut of an exciting new series set in Morganville, Texas, where you would be well advised to avoid being out after dark.

College freshman Claire Danvers has had enough of her nightmarish dorm situation. When Claire heads off-campus, the imposing old house where she finds a room may not be much better. Her new roommates don't show many signs of life, but they'll have Claire's back when the town's deepest secrets come crawling out, hungry for fresh blood. Will she be able to face the town's terror or will she drown like everyone else?
From Goodreads.
And even more vampires! Ok, so most of you may know about this series, but I don't think it's quite as popular as it should be, at least in the UK. It's incredible!
And
the main character is human, as are most of her friends. As the series goes on, a few vampires become friends of hers, but you know, that's only those she can trust, and, well, you can't really trust that many vampires in a town that's run by them. Most of these vampires are not the good kind, and Claire and her friends spend a lot of time trying to stay safe... that is, until, she ends up working with them. Man, this series is just brilliant, the characters and their voices are just amazing - Caine does a seriously incredible job at writing all their voices and making them so distinct! And Claire is just fantastic, the little genius that she is! This series is just wonderful, and you need to read it. Please. It's too good to miss!
So those are my recommendations, and now it's over to you! Have you read any of these? Do you now plan to? Do you have any recommendations of any I've missed? I absolutely love urban fantasy, and it would be great to discover some new authors!
--
If you enjoyed this post, feel free to follow me on:
Bloglovin' | Twitter | Goodreads