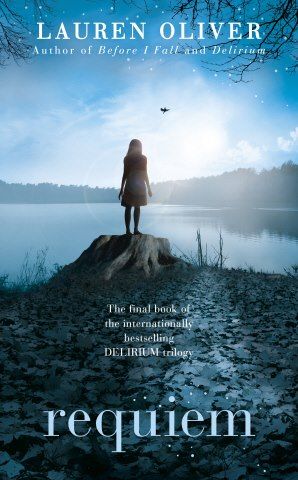 Requiem by Lauren Oliver

-

WARNING!

I cannot review this book without spoiling the others in the series. Read no further if you're planning on reading this series and don't want it spoilt for you. It is the rule of the Wilds.

You must be bigger, and stronger, and tougher.

A coldness radiates through me, a solid wall that is growing, piece by piece, in my chest. He doesn't love me.

He never loved me.

It was all a lie.

'The old Lena is dead', I say, and then push past him. Each step is more difficult than the last; the heaviness fills me and turns my limbs to stone.

You must hurt, or be hurt.

Lena can build the walls, but what if there's no one left to take them down? The powerful, heartbreaking conclusion to one of the most eagerly awaited, talked-about series is here.

From Amazon UK

It's hard to know how to even start writing this review. The final book in a trilogy I fell in love with back in 2011, finally in my hands, finally read, and all I can think of to say is... wow. Quite simply

beautiful

!

Lena and the rest of her Invalid friends are continuing the fight, but now the fight is super serious. Teaming up with other Invalids and the resistance in other parts of America, they know now is the time for some major action. They may be uncured, they may be free to love, but they are not

free

. This is not the life they should have to live, so they're going to take the life they deserve. Amongst all the planning and the travelling, Lena is having some issues of her own; Alex, the love of her life, doesn't want to know, but Julian, lovely, kind, sweet Julian, is still there, waiting, but not forcing the issue. Life for Lena simply isn't easy.

At Portland, a cured Hana is getting ready to marry the man who will become Portland's new mayor. She is aware of the plans of the Cureds, of how they plan to wipe out the Invalids once and for all. She is expected to play the part of dutiful wife, smile, wave and support her husband-to-be. But... she feels things. She's not quite sure what those things are, but something isn't quite right. Has Hana truely been cured, or is she "defective"?

I love that this story is told from the points of view of both girls in alternating chapters. You know what's coming towards each side at various points, know the plans, and are increasingly excited and nervous for these two characters you love, and worry about their survival. Yes, I did say "love"; despite being cured and having changed quite drastically, there's something about Hana that you can't help but love. It's a bit of an eye-opener too; despite questions over whether the cure has worked right for her, she is still cured, and seeing how the cured think is brilliant. It seems feelings are muted, but they're still there; Cureds can be happy or sad, scared or suspicious. Life as a Cured is simpler, cleaner, clearer, but not completely numb. It was awesome of Oliver to show us this, but also necessary, because Hana has her own story too, a subplot that interweaves with the main, but still separate. She has a life, a future, and problems of her own, and it's not as plain sailing as you would think.

In Lena's chapters, half the story is more about her feelings and issues regarding the two boys in her life - or not in the case of Alex. Though planning, strategising and the lead up to the action is all taking place, there is no real action for quite a while. I don't want to say too much about what happens regarding Alex and Julian, I feel this is something you should discover yourself, but it was great seeing Lena going through so many new feelings. She feels torn, and she doesn't know what to do. For her, for Alex, for Julian. She remembers lines from

The Book of Shh

describing the effects of love, realising that she is going through exactly what it says.

The Book

is right about some things. Is this life happier than a Cured one?

Requiem is as beautifully written as you would expect of a novel by Oliver, but this time round, I noticed it more. It's just so gorgeous; the imagery, the contemplation of feelings, how she describes most things. Oh, you could get lost in her descriptions, it's just amazing. But you could also die from a heart attack during the action! My god, the action is unbelievable! And again, I don't want to say too much about it, but you know, it's the final book. It's pretty epic!

And the ending! Oh my gosh! It's just

perfect

. Not all questions are answered, and even some smaller issues aren't resolved, but despite this, I think it's brilliant. There are no happy-ever-afters in anyone's life in the real world, nothing gets all sorted perfectly and tied up in a neat bow. Life continues, and life is messy, and you don't always know where life will lead. Requiem's main plot points and issues are resolved. It has an ending, a satisfying one, a

fantastic

one, but one that says living doesn't just end with the turn of a final page for anyone. And the final, final few paragraphs are just so beautiful; inspiring, empowering, motivating. But that's true of the whole book, really, the whole series. Fighting for what you believe in, fighting for your right to freedom, fighting for

love

. Requiem has finished off a beautiful trilogy that will forever have a place in my heart as one of my favourites.

Lauren Oliver, I have two words for you;

thank you

.

Thank you to Hodder and Stoughton for the review copy.

Published:
21st March 2013
Publisher:
Hodder and Stoughton
Buy on Amazon US
Lauren Oliver's Website
My other reviews from the series:
Delirium (Delirium Book 1)
Hana (Delirium Short Story 1.5)
Pandemonium (Delirium Book 2)
Annabel (Delirium Short Story 2.5)