We all like supporting YA and New Adult debut authors, but this year, rather than just read their books, I'll be highlighting them on my blog too, so you can hear about these wonderful authors.
Today, as part of the Blog Tour, I'm interviewing UKYA author
C.J. Harper
whose debut YA novel,
The Disappeared
, is being published by Simon and Schuster Children's Books in the UK on 31st January 2013. Read on for more: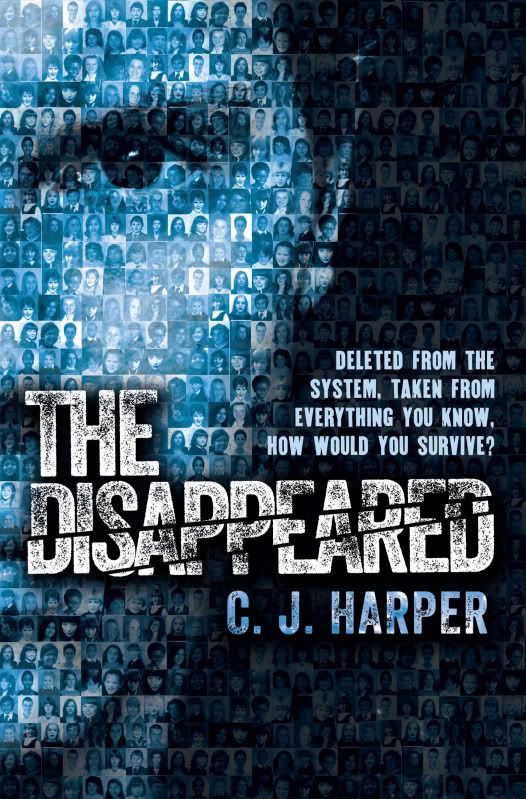 The Disappeared by C.J. Harper
-
In a future where children are segregated into institutions that range from comfortable "Learning Communities" to prison-like "Local Academies", seventeen-year-old Jackson is an academic high flyer, living in a top Learning Community and destined for a position in the Leadership. But when he is sent with his best friend Wilson to deliver a package to a factory block, the two boys are attacked, leaving Jackson badly beaten and Wilson dead.

Confused and upset, Jackson returns to his Learning Community only to be dismissed by his teachers who claim not to know him. Sent to an Academy, an institute set up to train factory workers, Jackson finds himself immersed in a world that couldn't be further removed than the comfortable life he's used to; a harsh, violent, semi-articulate society where the students have created their own hierarchy based on fighting ability.

Using his wits to survive, Jackson starts to realise that his whole life has been based on half-truths. And in order to survive he needs to expose the lies that surround the Academy and find out the truth about who he really is. As he builds alliances and begins to educate those closest to him, a plan for rebellion and escape gradually comes into shape...

Fast-paced, page-turning, moving, yet with a streak of dark humour, The Disappeared is a very British dystopia, with shades of Orwell and Huxley.
From Goodreads.
Can you tell us a little about yourself?
I grew up in a tiny house with a big family. I'm the fourth of five sisters, which means I still eat with my arm shielding my plate. I've got a daughter (The Ginger Ninja) and a son (Goblin Baby) and a computer-genius husband. There are enough Children's and YA books in my house to build a fort with. But I absolutely haven't ever skived off work to do that.
Have you always wanted to be an author?
Yes, but I put in the same category as my desire to be a Power Ranger; I thought it was an impossible dream. It was only when I attended a brilliant Arvon course (which I highly recommend for any budding author) that I started to think that maybe I should give it a go.
How did you come up with the idea for The Disappeared?
I used to teach some quite challenging teenagers. ('Challenging' is teacher code for psychopathic.) One day I realised that a couple of them had actually physically backed me into a corner. I started thinking how nice it would be if I could teach from behind reinforced glass. That's where the idea of a school where teachers are in cages for their own protection came from. Now that I think about it, I realise that some of my other ideas, like making the ginger kids the ones to rule the Academy and the attitudes towards teen pregnancy, were also inspired by my teaching experiences. Hmm, I guess I was wrong when I quit teaching and stormed out of the school shouting, 'You people have given me nothing, NOTHING!'
If you could describe The Disappeared in three words, what would they be?
Dark dystopian thriller. If anyone wants to help me make it my first choice 'Number one bestseller' then I'd be very grateful. And I mean the good kind of grateful – the one with cupcakes.
Why will readers like your main character, Jackson?
They won't! At least, not to start with. Initially, Jackson is arrogant, pompous and deluded, but I hope that readers will start to feel a little bit sorry for him when the people he knows best suddenly deny ever having seen him before. As the story progresses Jackson's better qualities do shine through; he's loyal, he's smart, he can see the humour in a situation and gradually he learns to laugh at himself. Ultimately, he's pretty brave, not only does he learn to fight, he also doesn't flinch from facing what's wrong with the world he thought was perfect, and what's wrong with him.
What research did you have to do for The Disappeared? Was there anything you found that surprised you?
Guns are heavy! I mean, I always imagined they would be but . . . seriously heavy. I'd never fired a gun, so one aspect of my research was learning to shoot (don't worry, no squirrels were harmed in the making of this book). In the end Jackson doesn't actually get to fire a gun in this book, but there's plenty of shooting in the sequel, so my research didn't go to waste! Most of the research I did was surrounding physical stuff. There's quite a lot of fighting in The Disappeared and the last time I tried a flying kick was in 2003 when my mum was about to show my boyfriend the photo of me that time I managed to get a whistle stuck up my nose. So I thought I'd better remind myself what running and jumping and falling feels like. Which helped me to remember why I gave them all up in the first place.
Tell us about how you write; do you write in a particular place? Do you have any music playing? Do you have any must-haves with you while writing?
When I moved into my house I thought I'd use the smallest room for writing in, but then a tiny person arrived and needed a bedroom, he's still not in that room because it's housing Christmas decorations, my collection of She-Ra figures and a lot of notebooks that I will probably definitely need one day, so mostly I write on my laptop, sitting on the sofa with my tiny person in a baby bouncer beside me. I don't need a special pen or a tidy desk or whale music or anything, but I am working tirelessly to prove inconclusively my theory that number of words written is in direct proportion to number of snacks consumed.
What was most surprising to you during the writing process?
How long it takes to get from an idea to a published book. Apparently, it surprised other people too because I spent a lot of time fielding the question 'Will your book be out in time for Christmas?' This was Christmas 2011.
How does it feel to know your book will soon be in the hands of readers?
Oh, you know . . . *shrugs and relaxes into a yoga position* I'm very mellow about it . . . Yeah, ON OPPOSITE WORLD. It's terrifying. But exciting too. The responses I've had so far have been lovely. It's amazing to know that you've made someone cry without even having to punch them.
Anything else you would like to add?
I just want to say how fantastic it is to be part the UK YA community. It makes me really happy to know that there are enthusiastic readers, hard-working bloggers and genius authors out there getting people excited about YA fiction. Without even having to punch them.
Thank you, C.J., for such a great interview! I am SO EXCITED to read The Disappeared! It sounds amazing! And how funny is C.J.? You can find C.J. on her
website
and
Twitter
.