Here is your bookish news from the past week.
First up, the trailer for
What's Left of Me by Kat Zhang
:
How awesome does that look? I am so looking forward to reading this!
----------------------------------------------------
There's going to be a YA Crime Panel event:
Foyles presents Creative Voices with:
Niall Leonard, Gregg Olsen and Chris Ould

19th October 2012
6:30pm - 7:30pm

Charing Cross Road, Children's Event, Free Event
Crime fiction is the next big thing in YA literature, and tonight authors Gregg Olsen, Chris Ould, and Niall Leonard will converge in the Gallery to discuss their work, their inspiration and their journeys to publication. There will be a chance to get books signed.

Venue: The Gallery at Foyles, Third Floor, Charing Cross Road.

Tickets are FREE; you just need to book online.
----------------------------------------------------
News from HarperCollins Children's Books:
We are pleased to announce a brand new, fabulous website for the NUMBER ONE children's bestselling author, David Walliams!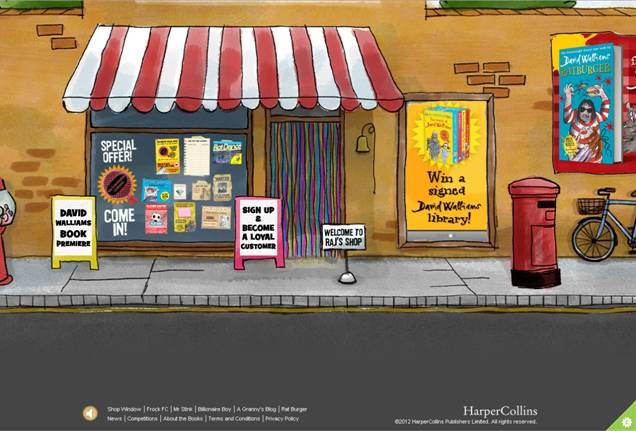 We have created the World of Walliams around a street scene which includes Raj's shop, as Raj is a consistent character through the books. As you'll see, we have a game per book that David has written, and if you sign in, once you have played all the games you will have a complete 'Raj's loyalty card' and you win a virtual whoopee cushion which you can play as many times as you like! You can see a video of David introducing his new website here.

The site holds plenty of information about David and his books, reports on past and future events, all the latest news and plenty of space for more content to come, including a Q&A facility. You can also sign up to a newsletter to get the latest Walliams information direct to your inbox.

David Walliams was last week's bestselling children's author for the second week in a row, taking the number one spot with his hilarious and revolting new book Ratburger. The book was launched with a premiere event at Cadogan Hall two weeks ago, a film of which can be viewed here.
----------------------------------------------------
Harry Potter related J.K. Rowling news from Bloomsbury:
J.K. Rowling will be taking part in a webcast on Thursday 11th October at 5pm. The webcast will be streamed live via the Bloomsbury website and will be available to view after the event.

This is a wonderful opportunity to see the bestselling author talking about Harry Potter, Pottermore and all things Hogwarts. Children from schools around the world will be asking questions as well.

At the moment there is a holding page with a countdown but anybody who would like to see the webcast should go to the link above at 5pm on 11th October where they should be able to view the webcast. This is the first interview about Harry Potter that the author has done in some years and will be of interest to fans of all ages.
Sucks, I'll be working then! :( At least I'll be able to watch it after!
----------------------------------------------------
From one webcast to another...
On 5th November 2012 2pm GMT, watch bestselling author Michelle Paver talk about GODS AND WARRIORS, the first book in an epic new five-part Bronze Age series for adventure-loving girls and boys aged 9+
Winner of the 2010 Guardian Children's Fiction Prize - for the sixth and last book in her Chronicles of Ancient Darkness series, Michelle Paver's books have sold over 2.5 million copies worldwide and are published in over 35 languages.
Find out more
here
.
----------------------------------------------------
News from Simon and Schuster Children's Books:
Simon and Schuster announced on 1st October a new global deal with Becca Fitzpatrick, internationally bestselling author of the Hush, Hush saga.

Fitzpatrick's new novel, entitled Black Ice, is scheduled for release in autumn 2014 and will be published internationally by Simon & Schuster US and Simon & Schuster Australia. Black Ice will be supported by a major global marketing campaign and an international author tour.

In the UK, Venetia Gosling, Editorial Director at S&S Children's, acquired UK and Commonwealth rights from Catherine Clarke at Felicity Bryan, on behalf of Catherine Drayton at Inkwell Management. Black Ice will be published in hardback and ebook in autumn 2014.

Becca Fitzpatrick's debut novel, Hush, Hush was first published in autumn 2009. The book debuted on the New York Times bestseller list during its first week on sale and cleared the path for a new popular trend in 'fallen angel' young adult novels. The subsequent books in the series, Crescendo and Silence, were also global bestsellers, both taking number one children's chart positions in the UK. Lifetime sales across the series for UK editions stand at almost half a million copies. The conclusion to the saga, Finale, will be published worldwide on 23rd October 2012.
For more info, read the
press release
.