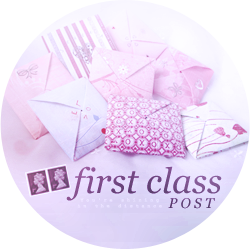 First Class Post - because this post is first class!
Bit of an epic week! :)
For review:
Rift by Andrea Cremer
-
Goodreads
/
Amazon
Unsolicited review copy! I have to say, I have only read Nighsthade in Cremer's previous series, but I LOVED it. I do have the next two books to read, and I'm looking forward to doing so. So I am excited to have received this! Looking forward to it!
Circle of Fire by Michelle Zink
-
Goodreads
/
Amazon
Again, another unsoliticed review copy. I loved the first book in this series, but again, yet to read book two. It's great to have the whole series now, so I can catch up and finish!
The Bad Tuesdays: Twisted Symmetry by Benjamin J. Myers
-
Goodreads
/
Amazon
I am SO intrigued to read this dystopian novel! Looking forward to giving this a go!
The Edge of Nowhere by Elizabeth George
-
Goodreads
/
Amazon
And another unsolicited copy. This sounds good, it's piqued my interest. Will give it a go.
The Shifting Price of Prey by Suzanne McLeod
-
Goodreads
/
Amazon
Oh, you have no idea how excited I am to have been asked to review an eARC of this book by the author. I am such a HUGE fan of this series! *dances* So, so happy! Not pictured.
The Spindlers by Lauren Oliver
-
Goodreads
/
Amazon
JFIRJEKRHTGFJKHGREHG!!!! I HAVE THE SPINDLERS! I AM EXCITED! EEEEEE! That is all.
Bought:
Last to Die by Adam Page
-
Goodreads
/
Amazon
This isn't my usual read, but it's written by an old friend of mine, so of course I have to read it! However, as I know him, for ethical reasons, I won't be reviewing it. Not pictured.
Once Burned by Jeaniene Frost
-
Goodreads
/
Amazon
Eeee! The first book in the Night Prince series! SO EXCITED! Only maybe once has a book my Jeaniene Frost disappointed me, so I'm super excited to get stuck into this book! And I've loved Vlad in every other Frost novel he's been in, so it's awesome that he now has a series of his own! :D I do
not
like the cover though. Going by Frost's other novels, there may be a few sex scenes, but it's not erotic fiction! This cover just says sex to me! There's always more to Frost's stories, and it's just sad to see covers like this on such great
stories
. Meh.
The Divine Comedy by Dante Alighieri
-
Goodreads
/
Amazon
This book was on sale in a wee indie shop I popped into, so I thought I'd pick it up. I've seen this book quoted in various books, and it inspired a club in Karen Chance's Cassandra Palmer series. I don't know if I'll get round to reading it or not, but it's just one of those books I want to have. Not for a look-what-book-is-on-my-coffee-table-aren't-I-super-intelligent? reason, but I want my "library" to have a few classics in them - it doesn't feel right not to have them. Plus, I am so intrigued by this story. Unfortunately, I have trouble understanding the language a number of old classics are written in, and poetry that hasn't been translated for me also causes me trouble, but I'd like to give this a go one day. Try and educate myself.
Won:
The Gathering Dark by Leigh Bardugo
-
Goodreads
/
Amazon
I won a finished copy through the
Fierce Fiction Facebook page
! I'm a happy bunny! Looking forward to reading this!
Gifted:
Devil's Kiss by Sarwat Chadda
-
Goodreads
/
Amazon
I've seen this about a bit, and have been intrigued. Glad I can give it a go now!
Thank you to Atom, Orion, Hodder & Stoughton & Suzanne McLeod for the review copies!