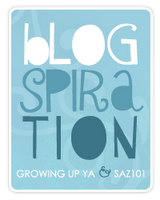 Blogspiration is hosted by Saz101 and GrowingUp YA.
This week's Blogspiration is actually a movie.
In the absense of a proper synopsis/summary, I'm going to attempt to write this myself. The Pagemaster is a story of Richard, a boy who is scared of pretty much everything. He has encyclopedic knowledge of accident statistics which stop him from doing pretty much everything. During a terrible storm, Richard takes shelter in a library, hoping to phone his parents to come and pick him up. However, he slips on some water that drips from his jacket, falls down and knocks himsef unconcious. When he wakes up, the beautiful painting on the ceiling dipicting classic book characters starts to melt, and a tidal wave of cartoon "paint" washes over Richard, turning him into a cartoon. He meets the Pagemaster, who sets him on a journey to the library's Exit, where he is accompanied by the books Adventure, Fantasy and Horror. His journey has him meeting characters from books such as those in Treasure Island, Dr Jekyll and Mr Hyde, Hounds of the Baskervilles and many more. Will Richard ever make it to the Exit when something terrifying might be just over the next page?
I hope that summary was ok! The trailer might make more sense...
The reason I chose this movie for Blogspiration is because it shows what books can do. As a young girl I watched this and was entertained by it, but only now as an adult do I see it's real worth. It's only through Richard's experiences with books that he learns and grows, and faces the things he's most terrified of. It's a metaphor that says through reading and stories, through witnessing the experiences, choices and mistakes of the characters, you can find the strength and courage to become a better you. What can be more inspirational than that?
Please feel free to leave links to your own Blogspiration posts! I'd love to see them!