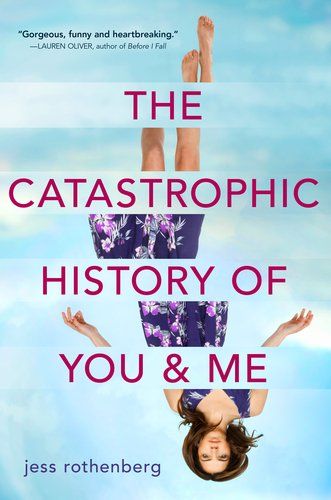 The Catastrophic History of You and Me by Jess Rothenberg (ARC)
-
If I'd known right then that this was the kid who would grow up to break my heart beyond repair, maybe I would've stayed upstairs on the phone with Tess.

Maybe I would've gone to bed early. Maybe I would've begged my parents to take me with them - even though those doctor dinners are pretty much the boringest things ever.

But I didn't know. Couldn't know. So instead I shrugged and said something really genius like "Um, whatever." And proceeded to fall totally, madly, crazy in love.
From Puffin.co.uk
After reading the blurb and title, I picked up this book thinking I was in for a nice romantic love story that went wrong, and how I would get to read about the whole romance from start to finish, and how she dealt with it after. That sounds like the type of book it would be, right? It isn't. It's absolutely nothing like it. It's a story of a girl who dies of a broken heart, literally. Her boyfriend dumps her, and her heart literally severs in two. This isn't a spoiler, this is found out from the very beginning. Then we follow Brie as she tries to come to terms with her death, in her "slice of heaven".
So I picked up a book that was telling a completely different story from the one I was expecting, down to a not so brilliant blurb - the blurb is actually an excerpt from the book, but it doesn't really explain what this story is about, or that Brie is dead. So I was a little annoyed that I was reading a different book, but I ecided to put that aside and give it a go. And it was enjoyable, but now as good as I hoped.
It didn't hook me in much. It took me a long time to read because I wasn't desperate to find out what happened next. I wasn't the biggest fan of Brie, the main character. When she was raging at the world and everyone in it, although I understood, I got annoyed with her. It went on a little bit too much for me. I really liked Patrick, he was really sweet and funny, but there wasn't enough of him; he was Brie's friend and companion in her slice of heaven, but she was completely focussed on her own issues, that I didn't think he had enough page time or that I got to now him enough.
I also thought the story was a bit slow. Brie has to come to terms with her death, and in doing so has to go through the five stages of grief, but as she does, there didn't seem to be much point to the story - until very close to the end. It didn't seem to really be going anywhere. It was only in the last third/last quarter of the book that things looked up; questions I didn't know to ask were answered, and things started making a little more sense. Once all that started happening, I could appreciate how clever the plot is, be extremely wowed by the title, and thinking that the book was becoming quite cool with the new exciting twist. I even thought that maybe this was the first book in the series, because things were working themselves out towards the end rather than finding more out earlier on, but then the book ended, and I realised it's a stand alone. I also found the ending a little bit confusing. So after the plot dragging a little for a while, then finally starting to make sense, but then ending as it did, I was a little bit
"what?"
It wasn't all bad. The story of what happened to those left behind was really sad, and there were some serious issues covered. It was really, really upsetting to see how the lives of her friends, her ex-boyfriend, and her family were turned upside down and started crumbling. And it was surprising to see that things weren't entirely what they seemed. As I said I really liked Patrick, and the twist that came up around the end was really pretty genius. It's just with everything else, I didn't enjoy it as much as I wanted. It was ok. Thought I'm sure some of this is half down to originally being annoyed by the misleading blurb. If I read it again knowing to expect the type of story I got, I might have enjoyed it more. I just don't think I was in the mood for this time of story.
A fairly good story over all, one I'm sure a lot of people would enjoy, but just not really for me right at the moment in time. Hopefully I'll find more enjoyment in it next time.
Thank you to Razorbill UK for sending me a review copy.
Published:
2nd February 2012
Publisher:
Razorbill UK
Buy on Amazon US
Jess Rothenberg's Website
Other reviews:
Eleusinian Mysteries