Over the past few weeks, I have fallen in love. No, not with a fictional guy, not even a real guy. I'm talking about blogs! Yes,
blogs
!
When it comes to other people's blogs, I tend to be more of a lurker than a commenter. I just find commenting for the sake of commenting, when I have nothing to add that hasn't already been said, a bit blah. So I tend to just read. However, I need to spotlight two of my recent discoveries...
There are two bloggers from Australia, Brodie and Lisa, who have teamed up on their YA blogs,
Eleusinian Mysteries
and
Read Me Bookmark Me Love Me
, to host a fantastic Valentine's Month Event, and I've been reading their blogs religiously since they started. Granted, originally it was because I wanted to enter all the contests (there are some real good, original
fun
ones!), but having visited and commented on both blogs pretty much everyday since the beginning of the month, I have found myself addicted to their posts. Yes, there are great contests, but forget them - these ladies can write!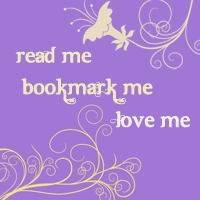 Their reviews are just as entertaining as books are. I laugh and smile all the way through. The enthusiasm they have for the books they love jumps out of the screen and hits you over the head, but the gushing doesn't stop their reviews from being extremely well written. I have seen their readers quote their reviews back at them, because a sentence was funny or just awesome. They've been covering a lot of books recently that I've had in my TBR pile that I've been looking forward to, but their posts on them have had me picking them up straight away, because I obviously NEED to read them
now
. Their reviews and posts are pretty much just amazing - even if they don't like the books they've read, or they're reviewing books that aren't my cup of tea.
Not only that, but they are so passionate about reading, and getting other people to read, in general; take the Valentine's event they have been holding, it's just amazing, and they've had so much going on - author/character Q&As, love triangle debates, ultimate boyfriend battles, extracts and deleted scenes... I have no idea how much organising putting something like that together would take. These ladies get seriously busy to ensure their readers get excited and
want to read
!
Not only that, but they're covering a lot of books I've never heard of, and the size of my wishlist is growing daily. Seriously, these are blogs you cannot afford to miss. Part of my daily online routine includes their blogs - check/reply to email, read Brodie and Lisa's blogs. You have to check these blogs out. They're just amazing.