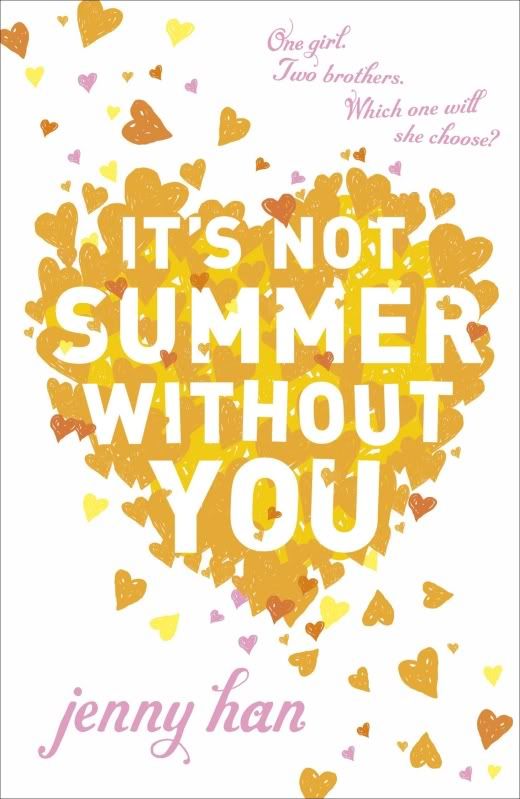 It's Not Summer Without You by Jenny Han (review copy)
-
WARNING!

This is the second book in a series. I cannot review this book without spoiling the first book in the series. Do not read any further if you plan on reading the first book and don't want it spoiled for you.
One girl. Two brothers. Which one will she choose?

Isabel's lazy, long hot summers at her family friends' beach house are over.

Conrad – sexy and unavailable - is the only boy she's ever loved. He's left for college, taking her heart with him. Jeremiah, his gorgeous brother, is still Isabel's best friend – but maybe friendship isn't enough for him anymore . . .

Isabel just wants everything to stay the same, because change means moving on. But if she stops looking back, will she find a future she never knew she wanted?
From Amazon UK
I really enjoyed the first book, so when I heard there was a second, I was really looking forward to it. The first book could be a stand alone; the girl finally gets the boy, and things will develop on from there away from the pages. But there were still some questions. What about Jeremiah? He showed some interest in Belly. And what happens to Suzannah? So it was great to get a second book and find out the answers.
A lot can happen in the time between one summer and the next. Suzannah died. Conrad went to college. Conrad and Belly split up. These aren't spoilers, we find out these things from the very beginning. But these things have really shaken Belly up. Suzannah was practically family, and she isn't coping well with her death. She's also heart broken over the end of her "relationship" with Conrad - the reason for which we find out as we read. She's emotional yet also emotionally dead, and it's just awful having to read her feeling so, so sad.
But when she finds out from Jeremiah that Conrad has gone AWOL from his summer school - where he was retaking classes and exams, because of time spent away for Suzannah - she is determined to help, no matter if nothing comes from it. If Conrad's missing, something is seriously up. So our story really begins.
I really liked It's Not Summer Without You. It's much more of an emotional book, less happens in this one in comparison to the previous, but it's still sweet in a sad sort of way. I loved that Jeremiah also got to share what he was thinking - about Conrad, about his Dad, and most importantly, about Belly. We still get those wonderful little flash backs like we did in The Summer I Turned Pretty, but most of the time, these are of events that happened before summer.
I could say more, but I would be spoiling the book. It's a sweet, quick read. I loved how it ended, where there is an end yet still more questions. Has Belly really made a decision either way? Will the other try to fight? So I'm really looking forward to the th9ird book in the series, We'll Always Have Summer. A lovely series that comes highly recommended!
Thank you to Razorbill UK for sending me a review copy.
Published:
5th May 2011
Publisher:
Razorbill UK
Buy from Amazon US
Jenny Han's Website
Previous books in the series:
The Summer I Turned Pretty