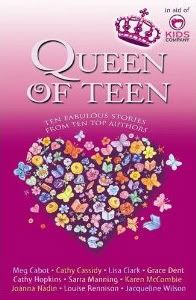 Queen of Teen Anthology
-
Nine stories by top authors, in aid of the charity Kids Company. Discover nine fabulous short stories from the finalists of the Queen of Teen Award, selected by their readers and their fans. It's an irresistible chance to read something new by these alltime favourite authors – or discover an amazing writer you've been missing up to now!

All the stories focus on the realities of being a teenager and gaining independence.
From Amazon UK
Some Girls Are Bigger Than Others my Sarra Manning
The wonderful Luisa Plaja sent me a copy of the Queen of Teen anthology just for this one story, which she thought would be brilliant for Body Image & Self-Perception Month - though, of course, I will read and review all the others too.
It's summer, and Cath has got herself a job at the ice-cream parlour on the pier in her town, where she'll be working with Rosie. Both girls are chalk and cheese; Rosie is quiet, Cath is loud; Rosie likes reading, Cath likes fashion and boys; Rosie has huge boobs, Cath's boobs are practically non-existant. Cath instantly dislikes Rosie. How is it fair that this mousey, quiet,
boring
girl has such big boobs, when all she has is a pair of well-used chicken fillets? But through discovering Rosie's complete lack of self-confidence and experience with boys, Cath sets out to help her bag the the guy she likes.
I'm not much of a short story reader - I haven't read that many, and those I have are about characters in series I've been reading - so I wouldn't have thought a short story could really say all that much on a topic such as this, but I was so wrong! Through their uneasy friendship, we see that both girls have self-esteem issues. Rosie is self-concious of the fact that all people see are her boobs, where as Cath is self-concious of the fact that she doesn't have any when that's all guys are interested in. It's great to see how Cath makes it her mission to instill Rosie with confidence, and actively does her bit to help her get her guy.
'"Look, Rosie, you might read a lot of books but they're not teaching you important boy-getting life skills. Twenty-five per cent of your problem is obviously low self-esteem and the other seventy-five per cent of your problem will disappear if you let me work on your wardrobe, grooming and getting you a bra that actually fits."'
(p128)
'"You are not fat,' I interrupted angrily because at least she didn't go straight up and down like me. 'You're curvy. Big diff. And you're really smart and funny and you should stop judging yourself on what you think you look like. It's pathetic. And don't you forget it.'"
(p135)
Yet it's so sad to see she has her own issues, when she seems to be so confident, and that her attitude on what matters is what causes her issues.
'"But all I want is to have super-shiny hair and actual breasts so I can attract a really cute boy with lots of money who'll take me away from this crappy little place".'
(p148)
But then Rosie takes Cath in hand, and helps her as she knows best, getting right to the matter.
'"You have to figure out who you really want to be, and then make sure the people in your life are going to help you achieve that. Like you helped me see beyond my 36Fs."'
(p148)
It's a really quite a sweet story, and one that strikes a chord with me especially. I am Rosie, but with Cath's figure. I understand Rosie's shy and awkward behaviour around guys, and I understand Cath's disappointment with her lack of a chest. And I can completely understand her mortification when a certain event happens - just awful! But it's a sweet story well worth reading! I'm really looking forward to the other stories in the anthology.
Published:
1st May 2010
Publisher:
Piccadilly Press
Queen of Teen Website
Sarra Manning's Blog