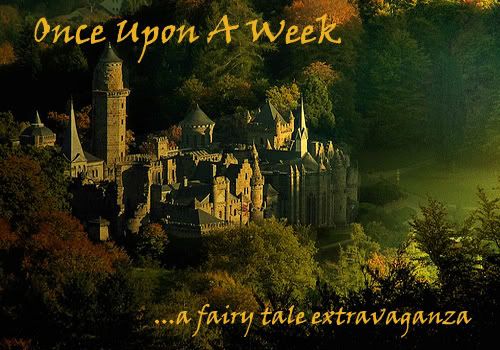 As part of Once Upon a Week, here is a fairy tale edition of Waiting on Wednesday.
So here are some fairy tale-esque books I want to read! As I don't know of many soon-to-be-released fairy tale-esque novels, some listed are old, some are new-ish, and some are not yet released. But I'd like to read them all!
Into the Wild by Sarah Beth Durst
"Let me put it this way: when your mom cooks, she doesn't have to close the doors to make sure the Gingerbread Men don't run outside."
Junior high is tough enough, even when your family is ordinary. And Julie Marchen's family is anything but ordinary: her brother is a talking cat, her grandmother is a bona fide witch, and her mother is Rapunzel. Yep, that Rapunzel -- long hair, tower, prince... Long ago, Rapunzel escaped the fairy tale with her fellow storybook characters to live in secret in our world. But Julie's world, our world, is about to change -- the fairy tale wants its characters back.
Now Julie must fight wicked witches, avoid glass slippers, fly griffins, and outwit magicians in order to rescue her mom and save her town from becoming a fairy tale kingdom. From Sarahbethdurst.com
Out of the Wild by Sarah Beth Durst

Ever since twelve-year-old Julie Marchen defeated the fairy-tale world of the Wild, life's been pretty much back to normal, as normal as it can be for a girl whose brother is Puss-in-Boots, grandma is a witch, and mom is Rapunzel. (Yes, that Rapunzel.)
The Wild is safely back under Julie's bed, but when it suddenly spits out her long-lost dad -- Rapunzel's prince -- things take a seriously enchanted turn. He's gallant, he's handsome, and he's totally clueless about life in the 21st century! (You try teaching a five-hundred-year-old prince how to text message.) Julie couldn't be happier to have her family back together, but when Dad dashes off to save a damsel who's distressing, it's up to Julie to bring him home, protect the family secret, and while she's at it, save the world.
Join Julie on a magical road trip across America. A flying bathmat, a very drowsy princess, a fire-breathing dragon, and several thousand magic beanstalks... Julie's world, our world, will never be the same again. From Sarahbethdurst.com
Crazy Beautiful by Lauren Baratz-Logsted

In an explosion of his own making, Lucius blew his arms off. Now he has hooks. He chose hooks because they were cheaper. He chose hooks because he wouldn't outgrow them so quickly. He chose hooks so that everyone would know he was different, so he would scare even himself.
Then he meets Aurora. The hooks don't scare her. They don't keep her away. In fact, they don't make any difference at all to her.
But to Lucius, they mean everything. They remind him of the beast he is inside. Perhaps Aurora is his Beauty, destined to set his soul free from its suffering.
Or maybe she's just a girl who needs love just like he does. From Amazon US.
Ash by Malinda Lo

In the wake of her father's death, Ash is left at the mercy of her cruel stepmother. Consumed with grief, her only joy comes by the light of the dying hearth fire, rereading the fairy tales her mother once told her. In her dreams, someday the fairies will steal her away, as they are said to do. When she meets the dark and dangerous fairy Sidhean, she believes that her wish may be granted.

The day that Ash meets Kaisa, the King's Huntress, her heart begins to change. Instead of chasing fairies, Ash learns to hunt with Kaisa. Though their friendship is as delicate as a new bloom, it reawakens Ash's capacity for love-and her desire to live. But Sidhean has already claimed Ash for his own, and she must make a choice between fairy tale dreams and true love.

Entrancing, empowering, and romantic, Ash is about the connection between life and love, and solitude and death, where transformation can come from even the deepest grief. From Amazon US.
Tender Morsels by Margo Lanagan

Liga endures unspeakable cruelties at the hands of her father, before being magically granted her own personal heaven, a safe haven from the real world. She raises her two daughters in this alternate reality, and they grow up protected from the violence that once harmed their mother. But the real world cannot be denied forever ...Magicked men and wild bears break down the borders of Liga's refuge. Now, having known Heaven, how will these three women survive in a world where beauty and brutality lie side by side? From Amazon UK.
Mirror Mirror by Gregory Maguire

A unique retelling of the classic fairytale, Snow White by the internationally bestselling author of WICKED

The year is 1502, and seven-year-old Bianca de Nevada lives perched high above the rolling hills and valleys of Tuscany and Umbria at Montefiore, the farm of her beloved father, Don Vicente. But one day a noble entourage makes its way up the winding slopes to the farm - and the world comes to Montefiore. In the presence of Cesare Borgia and his sister, the lovely and vain Lucrezia - decadent children of a wicked pope - no one can claim innocence for very long. When Borgia sends Don Vicente on a years-long quest, he leaves Bianca under the care - so to speak - of Lucrezia. She plots a dire fate for the young girl in the woods below the farm, but in the dark forest salvation can be found as well...

A lyrical work of stunning creative vision, MIRROR MIRROR gives fresh life to the classic story of Snow White - and has a truth and beauty all its own.
Confessions of an Ugly Sister by Gregory Maguire

We have all heard the story of Cinderella, the beautiful child cast out to slave amongst the ashes. But what of her stepsisters, the homely pair exiled into ignominy by the fame of their lovely sibling? What fate befell those untouched by beauty ... and what curses accompanied Cinderella's looks?

Set against the backdrop of seventeenth-century Holland, CONFESSIONS OF AN UGLY STEPSISTER tells the story of Iris, an unlikely heroine who is swept from the lowly streets of Haarlem to a strange world of wealth, artifice, and ambition. Iris's path becomes intertwined with that of Clara, the mysterious and unnaturally beautiful girl destined to become her sister. While Clara retreats to the cinders of the family hearth, Iris seeks out the shadowy secrets of her new household - and the treacherous truth of her former life. From Amazon UK.
Godmother by Carolyn Tergeon

Open the door into magical New York, and be cast under the spell of this breathtaking story of love, loss and redemption. Carolyn Turgeon's stunning novel is an enchanting new invention of that most beloved of fairytales, Cinderella.

What would you do if you could make dreams come true? If you could ensure that Cinderella met her Prince, that sparks flew, romance blossomed, and most of all, that everyone lived happily ever after?

Be careful what you wish for – because fairy godmothers are as flawed as the rest of us, and temptation is a terrible thing. Meet sweet, well-meaning Lillian, who opens the quiet bookshop in Manhattan's West Village every morning, and whose dark past contains a desperate act, a dramatic banishment, and a guilty secret she has carried with her for centuries. Only one kind deed done for love will break the spell that has kept Lillian from home for so long – but can she succeed in making her own dreams come true at last? From Amazon UK.
Do you know of any other modern/updated/re-worked fairy tales that are coming out soon that I should keep an eye out for?
Waiting on Wednesday is brought to us by Jill of
Breaking the Spine
.