As you may or may not know, I am taking part in
LGBT+ April
hosted by Cayce of
Fighting Dreamer
and Laura of
Laura Plus Books
. The aim is, during the month of April, to post a review about LGBTQ YA or about LGBTQ YA in general at least once.
At the beginning of the week, Cayce gave us an
arts and crafts challenge
: "
So this week, I'm challenging *you* to create something LGBT themed.
"
So, with the help of a photo I took last year, a quote from Every Day by David Levithan, and the awesomeness that is
PicMonkey
, I created an Every Day Rainbow: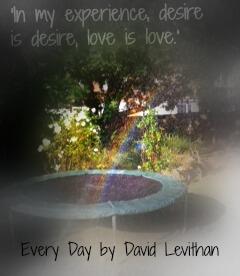 Not wonderful, but I like it. You created anything for the challenge? Please share! :)