So far, the books on rape and sexual assault that have been covered have been narrated by the victim, an acquaintance of both the victim and those accused, and someone falsely accused of rape, but there are other books that focus on rape and sexual assault narrated by other characters, as well as books on sexual/child abuse. I thought I would highlight a few of them here. All links go to Goodreads unless otherwise stated.
Narrated by sister of accused and brother of victim: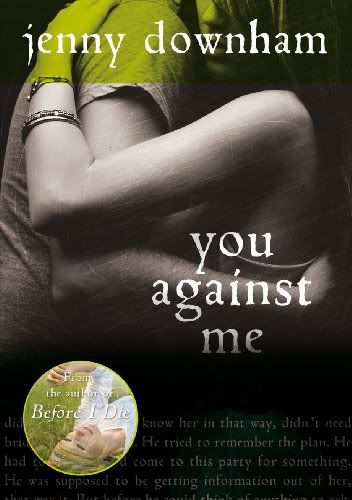 You Against Me by Jenny Downham
-
If someone hurts your sister and you're any kind of man, you seek revenge, right?

If your brother's accused of a terrible crime but says he didn't do it, you defend him, don't you?

When Mikey's sister claims a boy assaulted her, his world begins to fall apart.

When Ellie's brother is charged with the offence, her world begins to unravel.

When Mikey and Ellie meet, two worlds collide.

This is a brave and unflinching novel from the bestselling author of Before I Die. It's a book about loyalty and the choices that come with it. But above all it's a book about love.
From Goodreads.
This book is brilliant because it really gets you thinking: what if it was someone close to you who was raped? What if someone close to you was raped? How would you react then? From what I remember, this book doesn't focus on rape culture, but you can think about rape culture from these perspectives. Would you blame your sister for getting drunk and wearing revealing clothes? Would you be on your brother's side if he denied it was rape, that she was asking for it? I don't think these particular questions are asked in this book, but it's something to think about. Change the people involved to people you love, then what's your view? Read my
review of You Against Me
.
Narrated by the boyfriend of the victim:
Fault Line by C. Desir
-
Ben could date anyone he wants, but he only has eyes for the new girl — sarcastic free-spirit, Ani. Luckily for Ben, Ani wants him too. She's everything Ben could ever imagine. Everything he could ever want.

But that all changes after the party. The one Ben misses. The one Ani goes to alone.

Now Ani isn't the girl she used to be, and Ben can't sort out the truth from the lies. What really happened, and who is to blame?

Ben wants to help her, but she refuses to be helped. The more she pushes Ben away, the more he wonders if there's anything he can do to save the girl he loves.
From Goodreads.
I've not yet read this book, but I do have it waiting for me to read. I'm sure it will have a similar feel to Mikey's narration in You Against Me, seeing as it's someone the narrator loves who's been raped. But it looks like here he questions what the truth is, instead of being on Ani's side automatically. I think that would be a really interesting perspective; imagine being a guy and your girlfriend telling you she was raped, but others saying she cheated on you. That's going to throw up a lot of questions, depending on your level of trust. Seems slightly similar to Eastenders and the position Mick was in; Linda says Dean raped her, Dean says it was consensual - but he believes Linda right off the bat. I think this will be an interesting read.
Narrated by the rapist:
Inexcusable by Chris Lynch
-
"I am a good guy. Good guys don't do bad things. Good guys understand that no means no, and so I could not have done this because I understand."

Keir Sarafian knows many things about himself. He is a talented football player, a loyal friend, a devoted son and brother. Most of all, he is a good guy.

And yet the love of his life thinks otherwise. Gigi says Keir has done something awful. Something unforgivable.

Keir doesn't understand. He loves Gigi. He would never do anything to hurt her. So Keir carefully recounts the events leading up to that one fateful night, in order to uncover the truth. Clearly, there has been a mistake.

But what has happened is, indeed, something inexcusable.
From Goodreads.
Again, another book I have but am yet to read. I am really worried about this one, quite wary. But still, I think it might be interesting to see how someone might convince themselves they haven't done anything wrong. There are rapists who truly believe they're innocent - again, like Dean in Eastenders, who has somehow convinced himself it wasn't rape - so it could be interesting to see how Keir tells himself he didn't do anything wrong, that he didn't rape his girlfriend. But I'm still very nervous about how I'll cope with this one.
On homophobic sexual assault/male sexual assault:
Don't Let Me Go by J. H. Trumble
-
Some people spend their whole lives looking for the right partner. Nate Schaper found his in high school. In the eight months since their cautious flirting became a real, honest, tell-the-parents relationship, Nate and Adam have been inseparable. Even when local kids take their homophobia to brutal levels, Nate is undaunted. He and Adam are rock solid. Two parts of a whole. Yin and yang.

But when Adam graduates and takes an Off-Broadway job in New York—at Nate's insistence—that certainty begins to flicker. Nate starts a blog to vent his frustrations and becomes the center of a school controversy, drawing ire and support in equal amounts. But it is the attention of a new boy who is looking for more than guidance that forces him to confront who and what he really wants.

J.H. Trumble's debut, DON'T LET ME GO, is a witty, beautifully written novel that is both a sweet story of love and long-distance relationships, and a timely discourse about bullying, bigotry, and hate in high schools.
From Goodreads.
This book was absolutely incredible. Seriously, it's unbelievable. The way Nate comes to terms with and deals with his attack, and becomes even more open and blatant about his sexuality in response to the homophobic attack is brilliant, but seeing the flashbacks of him during the days and weeks just after the attack is so upsetting. Read my
review of Don't Let Me Go
.
On sexual/child abuse by family member:
Such a Pretty Girl by Laure Wiess
-
They promised Meredith nine years of safety, but only gave her three.

Her father was supposed to be locked up until Meredith turned eighteen. She thought she had time to grow up, get out, and start a new life. But Meredith is only fifteen, and today her father is coming home from prison.

Today her time has run out.
From Goodreads.
Not a book I've read nor own, but one that sounds amazing, in a really horrific kind of way. I don't even know how I would begin to cope with this one. But there are a few rave reviews on Goodreads, so I'll give it a go at some point, but I admit I'm scared to.
On sexual/child abuse by a stranger:
Living Dead Girl by Elizabeth Scott
-
Once upon a time, I was a little girl who disappeared.

Once upon a time, my name was not Alice.

Once upon a time, I didn't know how lucky I was.

When Alice was ten, Ray took her away from her family, her friends -- her life. She learned to give up all power, to endure all pain. She waited for the nightmare to be over.

Now Alice is fifteen and Ray still has her, but he speaks more and more of her death. He does not know it is what she longs for. She does not know he has something more terrifying than death in mind for her.

This is Alice's story. It is one you have never heard, and one you will never, ever forget.
From Goodreads.
Another I've not read nor own. This one scares the hell out of me. In a few reviews, I read what I think Ray has in mind for her now, and oh my god, it already makes me feel sick to my stomach. This is another one that's got rave reviews, so one I'll try and read at some point, but again, I don't think I'd cope well with it.
On student-teacher relationships:
Something Happened by Greg Logsted
-
"All around me I see people laughing, joking, and walking around with these huge, goofy smiles plastered on their faces. I've begun to wonder how they do it, and more important, will I ever be able to be like that again?"

Five months after his dad's unexpected death, Billy Romero is still struggling with the loss. Billy's mom spends more time talking to her Bluetooth than to him, and his best friend, Ziggy, just doesn't get it. There's no one who understands how alone Billy feels...except his new English teacher, the young and beautiful Miss Gate.

Miss Gate offers support and friendship, even giving Billy extra help with his writing outside of school. Billy isn't really sure how he feels about spending so much time with his teacher. It's a little weird, but it's also kind of exciting that someone like Miss Gate wants to hang out with him. But the closer they get, the more Billy wonders what kind of friendship this really is...
From Goodreads.
Where You Are by J.H. Trumble
-
Robert Westfall's life is falling apart--everywhere but in math class. That's the one place where problems always have a solution. But in the world beyond high school, his father is terminally ill, his mother is squabbling with his interfering aunts, his boyfriend is unsupportive, and the career path that's been planned for him feels less appealing by the day.

Robert's math teacher, Andrew McNelin, watches his best student floundering, concerned but wary of crossing the line between professional and personal. Gradually, Andrew becomes Robert's friend, then his confidante. As the year progresses, their relationship--in school and out of it--deepens and changes. And as hard as he tries to resist, Andrew knows that he and Robert are edging into territory that holds incalculable risks for both of them.

J.H. Trumble, author of the acclaimed 'Don't Let Me Go,' explores a controversial subject with extraordinary sensitivity and grace, creating a deeply human and honest story of love, longing, and unexpected connection.
From Goodreads.
I haven't read nor own either book. I don't know how these books portray the student-teacher relationships - whether as romance or as something sinister - but it's illegal. Sex with a minor and abusing a position of trust is illegal, whether there's consent or not. I think I'd like to give both a go to see how it's dealt with (especially Trumble's because she's just brilliant!), but this topic was brilliantly covered in
Melvin Burgess' Doing It
(link goes to my review). There are other books I know of on student-teacher relationships -
Me and Mr J by Rachel McIntyre
(female student, male teacher) and
Read Me Like a Book by Liz Kessler
(female student, female teacher) - but I don't know whether they become actual relationships or just student infatuation, so I'm not highlighting them here.
-----------
Some of these books I first discovered on
Wrapped Up In Books
'
Sexual Assault, Rape and Dating Violence in YA Novels Booklist
and Claire Hennessy's article in the Irish Times,
Speaking Up: A Brief History of Rape Culture in Young Adult Fiction
. There's also the
Sexual Violence in YA Lit Project
over on Teen Librarian Toolbox, which has a lot of book reviews, discussions, and panels. Do check out all links for other suggestions, they're brilliant, and there are so many books to discover.
Do you know of any other titles that would fit into these categories? Know of any other novels about male sexual assault, by either gender? How about books in categories I haven't listed? How about novels about teens raped by strangers? Pretty much all the ones covered have acquaintances as rapists, which is really scary. Let me know in the comments!