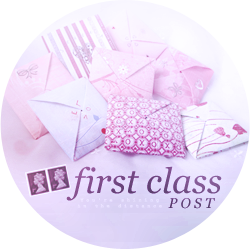 First Class Post - because this post is first class!


Check out Sunday mail memes:
Showcase Sunday on Books, Bisuits and Tea
The Sunday Post on Caffeinated Book Reviewer.
For review:
The Best Thing That Never Happened to Me
- This sounds like it's going to be a really awesome, sweet rom-com! Really looking forward to it!
Black Ice by Becca Fitzpatrick
- A surprise delivery, but I'm intrigued. Sounds very different from the Hush, Hush series. Really hope I enjoy it!
Noggin by John Corey Whaley
- This sounds like a really good, sweet story! Going to be a fun read, I think. The edition linked to isn't the one I have, but it's not up on Goodreads, so.
Bought:
Up From the Grave by Jeaniene Frost
- The seventh and final book in The Night Huntress series! This came out in January, but I didn't know! Snapped it up sharpish when I realised it was out! SO looking forward to reading it, but it will be sad to say goodbye to Cat and Bones. I do hope they turn up in the third Night Prince novel,
Bound by Flames
, which comes out next year.
The Sowing by Steven Dos Santos
- I absolutely LOVED The Culling, so I'm really excited to read the sequel! So looking forward to this!
Won:
Written in the Stars by Ali Harris
- I won thris through Simon & Schuster's
I Want a Free Book Every Month Facebook Page
. Sounds really good! Looking forward to reading it!
Thanks to Corgi and Simon and Schuster Children's Books for the review copies.
-------------------------------------------------
Inspired by Faye of
A Daydreamer's Thoughts
's
Weekly Recap
, here is a recap of my posts over the last week, and anything else I found interesting.
Only one review this week. A re-read of a fantastic high fantasy novel by one of my favourite authors, David Eddings - the first in his Elenium Trilogy,
The Diamond Throne
.