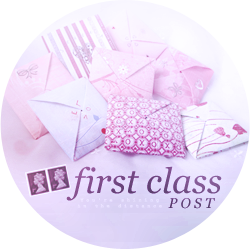 First Class Post - because this post is first class!


Check out Showcase Sunday over on Books, Bisuits and Tea.
For review:
Clipped Wings by Helena Hunting
- An NA novel that sounds interesting. I'm finding a pattern in the books I'm reading lately. Everyone seems to be suffering from some kind of issue. Same with this book.
Breaking Butterflies by M. Anjelais
- Really intrigued by this! A boy who can't feel emotion. That's so different!
Dreams of God and Monsters by Laini Taylor
- EEEEEEEEEEEEEEEE! Need I say anymore?
Prince of Shadows by Rachel Caine
- I love Rachel Caine, so I'm so excited to read this one! Really hope I like it!
Between the Devil and the Deep Blue Sea by April Genevoeve Tucholke
- There's something about this book that has me thinking "yes", even though it doesn't sound like my normal cup of tea. Hope I like it!
Raw Blue by Kirsty Eager
- This is for something I have coming up later in the year. :) You'll find out about it next week.
NetGalley:
Adaptation by Malinda Lo
- A little worried about this. It sounds SO good, but I wasn't really a fan of Ash. I don't want to dislike this book, too. Not pictured.
Don't Even Think About It by Sarah Mlynowski
- This sounds funny, but I hope it isn't going to be too over the top with popularity and cliques. The very pink cover puts me off. Here's hoping the actual story is good!
White Hot Kiss by Jennifer L. Armentrout
- Because I love her Lux series. I hope I enjoy this one, but it doesn't jump out at me as a book I must read.
Thank you to Orion, Chicken House, Hodder and Stoughton, Allison and Busby, Walker Books, Catnip, and Hodder Children's Books, Hachette Children's Books, and Hot Key Books via NetGalley for the review copies.
-------------------------------------------------
Inspired by Faye of
A Daydreamer's Thoughts
's
Weekly Highlights
, here is a recap of my posts over the last week, and anything else I found interesting:
Reviews:
I only read one book this week, due to sorting out a load of posts for next week - which you can read about below - and attending a funeral.
Boys Like You by Juliana Stone
is a heartbreaking debut. So emotional, and brought tears to my eyes. I also posted my review of
Deeper by Robin York
for the Caroline and West blog tour. A fantastic, important NA novel.
Other news:
Wednesday 19th March will be my fifth Bloggerversary! Five years! To celebrate, I'm have a weeks worth of posts looking back over my five years in blogging, my highlights and milestones, and giveaways, among other things. Please do come back each day to celebrate with me!
Thanks to Egmont UK and Peccadillo Pictures, who are working together to promote YA novel Two Boys Kissing by David Levithan and teen comedy G.B.F., I have been offered the exciting opportunity to interview movie Director Darren Stein! I will be posting my review of this hilarious and important LGBTQ movie tomorrow, and my interview with Darren later in the week. I'll be tweeting about it all, so keep an eye out for those - if you're not already here to celebrate my Bloggerversary with me ;)