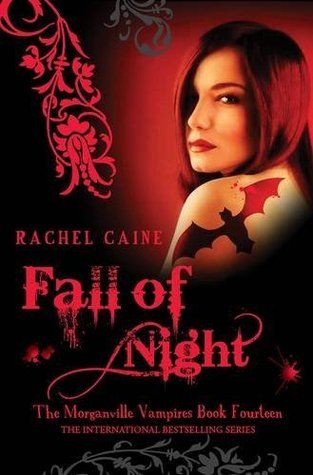 Fall of Night by Rachel Caine
I was sent this review copy for free by Allison & Busby for the purposes of providing an honest review.
WARNING!

I cannot review this book without spoiling the others in the series. Read no further if you're planning on reading this series and don't want it spoilt for you. Claire never thought she'd leave Morganville, but when she gets accepted into the graduate program at MIT, she can't pass up the opportunity. Saying good-bye to her friends is bittersweet, especially since things are still raw and unsettled between Claire and her boyfriend, Shane.

Her new life at MIT is scary and exciting, but Morganville is never really far from Claire's mind. Enrolled in a special advanced study program with Professor Irene Anderson, a former Morganville native, Claire is able to work on her machine, which is designed to cancel the mental abilities of vampires.

But when she begins testing her machine on live subjects, things quickly spiral out of control, and Claire starts to wonder whether leaving Morganville was the last mistake she'll ever make...

From Goodreads

As I love the Morganville Vampires series, it will be no surprise to hear I was so excited to read Fall of Night! And no surprise that I loved it! I'm not going to bother with a summary this time round. It would be difficult for me to give my own without spoiling the story, so the description above will have to do this time round.

It's so awesome to have a book set outside Morganville. It's strange, because although Morganville is full of vampires, residents know this, and, sure, there may be trouble sometimes, but everyone knows how things work. Outside of Morganville... you don't know how things work. How safe is "safe"? By not knowing the area, even without vampires, the fact that you know they exist makes you weary in unknown places. Better the devil you know, right? So Claire gets to Cambridge to attend MIT, and has trouble shaking Morganville off. It doesn't help that she's there without her friends. Or that Professor Anderson is a former Morganville resident, and keeps her on her toes.

Despite the fact that Claire's on her own, Fall of Night is another dual narrative, told from Shane's point of view. Seeing them both struggle with being apart, on top of them both having to deal with Claire's feelings of disappoint over Shane's lack of trust in Bitter Blood in hard. Neither of them are really all that happy, but Claire feels their relationship needs this time apart, time to sort out where their heads are, in order for them to survive as a couple.

Fall of Night is another action packed novel full of danger, it's just with this one, you never know where the danger is coming from! When Claire's roommate is abducted, and they later discover that VLAD has been stolen from Dr. Anderson's lab, all hell breaks loose. Two separate or related incidents? And which to deal with first? I can't really say much more than that without giving the story away but it's just as awesome as all the previous books!

And the ending! Oh my god! So looking forward to Daylighters to see how that pans out, yet I can wait a really long time for it, because I know once I've read it, that will be it. There's not much else to say, really. The book is amazing, Rachel Caine is amazing, the series is amazing - and I don't want it to end!

Thank you to Allison and Busby for the review copy.

Published:
2nd May 2013
Publisher:
Allison and Busby
Rachel Caine's Website
My other reviews from the series:
Glass Houses (Morganville Vampires Book 1)
The Dead Girls' Dance (Morganville Vampires Book 2)
Carpe Corpus (Morganville Vampires Book 6)
Fade Out (Morganville Vampires Book 7)
Kiss of Death (Morganville Vampires Book 8)
Ghost Town (Morganville Vampires Book 9)
Bite Club (Morganville Vampires Book 10)
Last Breath (Morganville Vampires Book 11)
Black Dawn (Morganville Vampires Book 12)
Bitter Blood (Morganville Vampires Book 13)