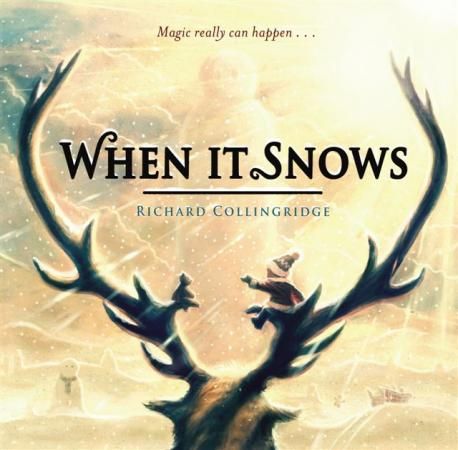 When It Snows by Richard Collingridge (review copy)
-
When everything grinds to a halt because of the snow, one small boy and his teddy bear refuse to allow the weather to spoil their fun. They embark on an amazing journey in which they ride a polar bear and meet huge snowmen, an ice queen, fairies, elves, a giant reindeer and Father Christmas.

And at the very end of the story, in a wonderfully cosy and festive fireside scene, there's a clever twist - he has simply become immersed in the magical scenes of his favourite book.
From Amazon UK
I don't normally review children's picture books; I don't have any need, there are no close young children in my family, and I don't really get too much from the stories as they are for toddlers. Books for children a little older can be really good, but picture books have never really appealed to me. Until I saw When It Snows.
At 30 pages - including the title pages and the very last page, as they are also illustrated - When It Snows is very short book, with very few words on the pages. The story is very simple, but really sweet. What I love most about this book - and what had me wanting to read it in the first place - are the illustrations. The paintings. They are absolutely beautiful! The attention to detail, the light and shade and the undeniable talent of Collingridge... it's just breath taking. These paintings are something I would love to have hanging on my wall, they're just gorgeous! And you can see the texture of the canvas in the paintings too, which I think is just awesome. Watch the trailer below to get an idea of just how beautiful the illustrations are:
As I said, the story is really sweet, too. As well as being very Christmassy, in a very simple way, it gets to the very heart of what reading can do; take you and your imagination off on a magical adventure (or rephrase depending on the genre you're reading). It's a book about reading, and as such, it's a great book to encourage children to read more, as it's saying, "This is the wonder of books, they can take you away again and again".
A simply beautiful, magical picture book. Every child should have one, even if it's just so their parents can enjoy the treasure that it is.
Thank you to David Fickling Books for the review copy.

Published:
27th September 2012
Publisher:
David Fickling Books
Preorder on Amazon US
Richard Collingridge's Website