Today I'm delighted to share with you a guest post from YA author
Cassandra Rose Clarke
as part of her Blog Tour for
The Assassin's Curse
, her UK debut. Read on to find out Cassandra's answer to why she chose to write high fantasy when urban fantasy and paranormal romance is really the norm in YA.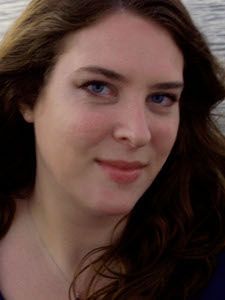 Writing
The Assassin's Curse
was an experiment. I'd tried my hand at writing high fantasy several times back when I was in college, but those novels never went anywhere. I had pages and pages of false starts and "world notes" and that sort of thing, but I always returned to the comfort of magical realism, where I could indulge my literary fiction tendencies and I didn't have to do things like make up words in imaginary languages.


I'm not sure why I was so keen on writing high fantasy. I mean, yes, I enjoy reading it, and that was certainly a large part of why I wanted to give it a go. But at the same time, I'm not fond of worldbuilding as a general rule, and I had it in my head at the time that if you wanted to write a fantasy, you had to also write a
Dungeons and Dragons
-style manual for your world before ever sitting down to tell the story. I think I got the notion from a friend of mine, who was the opposite of me: always worldbuilding and never storytelling.

I also think one of the big things about high fantasy that captured my fancy was the fact that you can do pretty much
anything
with it, as long as everything makes sense in the structure of your world. In some ways it seemed almost like a writing exercise: you can let your imagination run wild, but the end product had better not be nonsensical. I still kept getting hung up, though.


So. Flash forward a couple of years. I had finished graduate school and was pursuing writing as a profession. I'd also gotten accepted to Clarion West and was trying to write a short story a month as some sort of ill-advised preparation. One of the stories I sat down to write was about a former pirate and an assassin — another attempt, my first in years, at writing high fantasy. I wrote to about 6000 words and realized it wasn't going to be a short story, so I set it aside and didn't look at it for a year. When I came back to it, I wound up writing a 140,000 word novel that was eventually split into two books,
The Assassin's Curse
and its sequel,
The Pirate's Wish
.

Here's the thing, though: I never really thought of myself as writing YA, more just a novel with a young protagonist. That way of thinking freed me from feeling like I had to incorporate certain "expected" YA trends, like a love triangle. I am glad the story is being published as YA, though, because I think it ultimately fits in with the genre, even if the genre right now kinda feels like it belongs to paranormal romance. Or dystopias. Or fairy tale retellings. Or whatever the trend will be five minutes from me typing this. The lovely thing about YA is that it's always been open to blending genres, and that's up to and including blending YA with adult.

So I guess that's my answer to the question
Why did you write high fantasy when paranormal romance is the norm in YA
: I didn't realize I was writing YA. It's pretty easy to break free of convention when you have no idea what you're doing! And it's so exciting to see my two-year-long writing experiment as a really truly for-real book, about to be unleashed on the world.
Thank you, Cassandra, for such an awesome guest post! Be sure to check out
Cassandra's website
, and The Assassin's Curse once it's released on 4th October 2012.
Cassandra is holding a giveaway to win a one of a kind annotated version of The Assassin's Curse, with sketches, marked-out scenes, deleted information, and extra character info. Because there is only one prize and a number of blogs taking part in the blog tour, we have each been asked to pick a name from those who enter our own draws to send through to Strange Chemistry to then draw an overall winner.
Rules/Details:
Enter for Once Upon a Bookcase's draw by filling in the form below.
One entry per person. Multiple entries will be deleted.
Open to international entrants.
One name will be drawn.
Draw closes tomorrow, 3rd October 2012 at 11.59pm.
The name will be chosen via Randomizer.org and will be announced on 4th October 2012.
The chosen person's contact info will be passed on to Strange Chemistry to be entered into the final draw.
Please read my Privacy & Contest Policies.