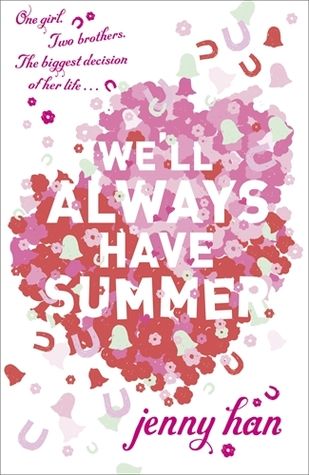 We'll Always Have Summer by Jenny Han (review copy)
-
Belly has only ever been in love with two boys, both with the last name Fisher. And after being with Jeremiah for the last two years, she's almost positive he is her soulmate.

Almost.

Conrad has not gotten over the mistake he made when he let Belly go. But when Belly and Jeremiah decide to make things forever, Conrad realizes that it's now or never--tell Belly he loves her, or lose her for good. Unlike his brother, Jeremiah has always known that Belly is the girl for him. Belly will have to confront her feelings for Jeremiah and Conrad and face a truth she has possibly always known: she will have to break one of their hearts.
From DearJennyHan.com
I've been a big fan of Jenny Han's Summer Series, so I was really excited to read We'll Always Have Summer, though a little sad as I knew the series would end, and I have loved reading about these characters. I was really looking forward to see whether Belly would choose Jeremiah or Conrad at last! However, I finished the book feeling a little disappointed.
We'll Always Have Summer is set two years after
It's Not Summer Without You
. Belly has been in a relationship with Jeremiah ever since the end of the last book, is now 18 and just finishing her freshman year at university - the same university Jeremiah goes to. As you will rightly guess from the cover and the synopsis above, Jeremiah proposes to Belly, and she says yes. This is not a spoiler, their getting married is the main part of the story. So many people are against it; her parents, his father - and Conrad. Conrad, who has never stopped loving Belly, and it's killing him watching her happily plan the wedding that will keep her from him forever. Accept seeing Conrad has brought back feelings Belly thought were long gone, and she has a very hard decision to make; Jeremiah or Conrad?
I struggled a little with this book because a lot of the characters have grown up since the last book, and so feel slightly different. Belly is still very much Belly, but there is less of the teenage angst and she is a little more responsible. But, as lovely as he is, I barely recognised Jeremiah. It is possible that I may have forgotten his personality since the last book, but I remembered Conrad enough to recognise the boy in the young man. He just felt a bit like a completely different character, and it was a little jarring.
But what I found the most disappointing was how for most of the book, nothing much seemed to happen. After the wedding is announced to everyone, apart from a few conflicts with family, it's pretty much all wedding planning. Nothing major seems to happen until about the last quarter of the book. It was only the fact that there was the odd chapter from Conrad's point of view, showing us what was going through his head, the thoughts behind his choices, that there was any indication that a major romantic conflict was possible. By which I don't mean a fight between Jeremiah and Conrad over Belly, but just something that makes us wonder what's possibly going to happen like those in the previous books, the issues with the boys. Most of the way through, it looked like Belly would just marry Jeremiah without anything huge causing problems - in which case, what choice? Just so you know, this is not me saying or giving any indication of who she chooses, I was never sure one way or the other until
very
close to the end who she would eventually choose, it just didn't seem like the story fit how problematic all the way through the synopsis makes it sound. It wasn't so bad as I love these characters, and so would have wanted to read it anyway, I was just expecting the story to be a little more exciting!
I loved the ending! Well, mostly, I wish there could have been a little bit more. But it was really sweet and lovely! And so very Belly! So the last quarter of the book felt more in line with the rest of the series, and felt like a great ending. I just wish there was a little more going on in the romantic conflict sense in the middle. Still, a pretty good book, and one fans of the series should definitely read. Really looking forward to more from Han in the future!
Thank you to Puffin for the review copy.

Published:
Puffin
Publisher:
3rd May 2012
Buy on Amazon US
Jenny Han's Website
My other reviews from the series:
The Summer I Turned Pretty (Summer Series Book 1)
It's Not Summer Without You (Summer Series Book 2)