Here's your bookish news from the past week.
First up, anthology news!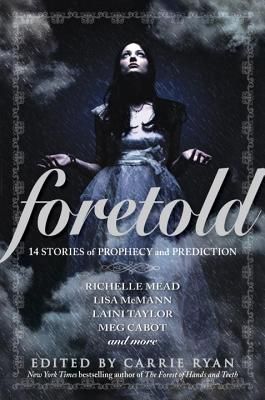 Foretold: 14 Tales of Prophecy and Predicition
edited by Carrie Ryan was released on 28th August, and is full of shirt stories from some of the greatest authors going. (Isn't the cover GORGEOUS?!)
Have you ever been tempted to look into the future? To challenge predictions? To question fate? It's human nature to wonder about life's twists and turns. But is the future already written—or do you have the power to alter it?

From fantastical prophecies to predictions of how the future will transpire, Foretold is a collection of stories about our universal fascination with life's unknowns and of what is yet to come as interpreted by 14 of young adult fiction's brightest stars.
From Amazon UK
The anthology includes the following stories:
Gentlemen Send Phantoms by Laini Taylor
Burned Bright by Diana Peterfreund
The Angriest Man by Lisa McMann
Out of the Blue by Meg Cabot
One True Love by Malinda Lo
This Is a Mortal Wound by Michael Grant
Misery by Heather Brewer
The Mind is a Powerful Thing by Matt de la Pena
The Chosen One by Saundra Mitchell
Improbable Futures by Kami Garcia
Death for the Deathless by Margaret Stohl
Fate by Simone Elkeles
The Killing Garden by Carrie Ryan
Homecoming by Richelle Mead
Is anyone else as excited about this as I am? I WANT THIS BOOK!
--------------------------------------------
And now for the trailer for
Spark by Brigid Kemmerer
- which was released on 28th August 2012!
You can read my rave review
here
!
--------------------------------------------
The
Bloodlines by Richelle Mead Facebook Page
has a challenge for us! Watch the video below to find out more!
So what are you waiting for? If you haven't already
Liked the page
, do so now! Or recommend it to your friends! Go go go!
--------------------------------------------
News from Hot Key Books about their latest release:
Maggot Moon by Sally Gardner
50% Friendship, 20% Dangerous, 20% Rebellion, 10% Conspiracy

A starkly original and heartbreaking tale of friendship and rebellion

"Dazzling, chilling, breathtaking. A perfect book" Meg Rosoff

Narrated against the backdrop of a ruthless regime determined to beat its enemies in the race to the moon, MAGGOT MOON is the stunning new novel from award-winning author Sally Gardner, illustrated by renowned artist Julian Crouch.

When his best friend Hector is suddenly taken away, Standish Treadwell realises that it is up to him, his grandfather and a small band of rebels to confront and defeat the ever-present oppressive forces of the Motherland.

Utterly original and stunning, it is impossible not to be moved by MAGGOT MOON's powerful story and the unforgettable heroism of Standish.

Sally Gardner said: "Maggot Moon is the book I've always wanted to write and Standish has been waiting to be written for years." She has dedicated the book "For you the dreamers, Overlooked at school, Never won prizes, You who will own tomorrow."

Look out for Maggot Moon Multi-touch iBook available from the Apple iBook store in September. Packed full of interactive content including video interviews with Sally, extracts from the audio book, animated page sequences (see what a page looks like to some dyslexics), dyslexia examples, political talking points and much, much more, this edition is perfect for anyone who wants to ask questions about the world around them.

For more information about the book and the iBook and to view some of the interactive content go to www.maggotmoon.com

Sally Gardner grew up amongst the drama of London's law courts, as both her parents were lawyers. Having been branded 'unteachable' by some and sent to various schools, Sally was eventually diagnosed at the age of twelve as being severely dyslexic. Sally is now an avid spokesperson for dyslexia; she sees it a gift, not a disability, and is passionately trying to change how dyslexics are perceived by society.
Fromt he press release.
Videos from the Maggot Moon Multi-touch iBook:
Sally's iBook intro:
Animated page showing what Dyslexia is like:
Welcome to Juniper: