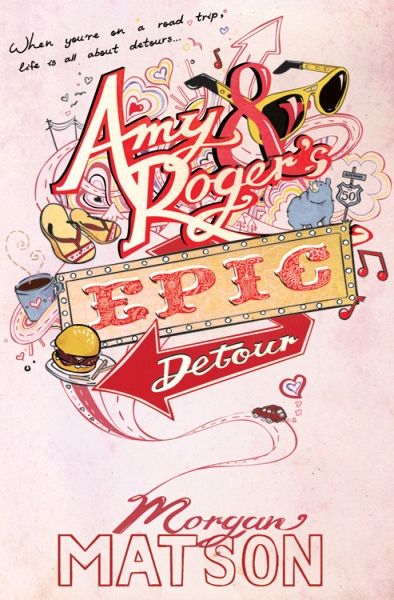 Amy and Roger's Epic Detour by Morgan Matson (review copy)
-
Amy Curry is having a terrible year. Her mother has decided to move all the way across the country and needs Amy to drive their car from California to the East Coast. There's just one problem: since the death of her father, Amy hasn't been able to get behind the wheel of a car. Enter Roger, the son of an old family friend, who turns out to be unexpectedly cute...and dealing with some baggage of his own. Meeting new people and coming to terms with her father's death were not part of Amy's plans for the road trip. But then neither was driving on the Loneliest Road in America, seeing the Colorado Mountains, visiting diners, dingy motels and Graceland. But as they drive, and she grows closer to Roger, Amy finds that the people you least expected are the ones you need the most - - and that sometimes you have to get lost in order to find your way home.
From Amazon UK
After really enjoying reading Saving June by Hannah Harrington, and loving the road trip aspect of it, I was keen to start reading another road trip book. So I picked up Amy and Roger's Epic Detour hoping for another brilliant road trip story - and that's exactly what I got!
After the death of her father, Amy's mother decides to pack up and leave California. As her mother headed to Connecticut early while Amy finished the school year, Amy has to road trip it down with Roger, the son of a friend of the family. After the car accident her father died in, Amy is no longer able to drive, and finding it difficult to cope with his absence and all the change. But a road trip with Roger, who has problems of his own, might just be what they both need.
Amy & Roger's Epic Detour is a fantastic book! There are so many issues Amy is having to deal with; not only her father's death, but the fact that she blames herself for it, that no-one seems to want to talk about it and her mother has practically abandoned her, and her stoner brother is in rehab after going off the rails with his partying after their father's death. Then her mother expects her to spend several days in a car - knowing her father died in one - in the company of someone who is practically a stranger, no matter how hot.
The route Amy's mum planned out for them is boring. Nothing to see along the way, just hours of relentless boredom So Roger suggests a detour - as long as they make it to Connecticut in time, what does it matter what route they take? So that's what they do. The places they go, the people they see - it's one hell of a journey, with things for both of them to learn along the way, about each other and about themselves, and take a step closer to learning how to heal.
The romance is a slow burner, but one that is all the sweeter for their issues. Both have things weighing heavily on their hearts that is takes a while to see what's right in front of them, but once they do, oh, it's just awesome! You're rooting for them both to open their eyes the whole time, and you can't help cheering once they see what you have from the beginning.
Not only is it beautifully moving and uplifting, there are awesome extras! Before the trip started, Amy was sent a travel scrap book from her mother, and she fills it with things she picks up along the way - and we get to see them; photos, receipts, postcards, etc. making the story feel that much more credible. My only problem is that I wish they were colour photos! There are some really beautiful photos there - ones that Matson actually took herself when she took the road trip Amy & Roger go on for research - and I would have loved to have see them in colour! Fortunately, we can do that on
Matson's tumblr
, but I would have preferred them in the book. There are also playlists for every state they drive through, though music isn't a huge influence on the story.
The only I problem I have with the book is how it ended - yet, it's also one of the great things about the book. I know that doesn't make sense, but I can't explain without spoiling it for you. However, I can say that the ending feels very true. Life isn't certain, and so there was no better way to end the book. Sorry to be cryptic, but you'll know what I mean you read it. It's an awesome ending!
Amy and Roger's Epic Detour is an amazing story and one that will stay with you, leaving it's impact on your heart. An emotional, brilliant story, and I'm so looking forward to reading more by Matson!
Thank you to Simon and Schuster Children's Books for the review copy.
Published:
7th July 2011
Publisher:
Simon and Schuster Children's Books
Buy on Amazon US
Morgan Matson's Website
Other reviews:
Eleusinian Mysteries
Read Me Bookmark Me Love Me