Here is your news from the past two weeks - unfortuately, I forgot to post last week, but better late than never!
The cover for The Glimpse by Claire Merle has been revealed!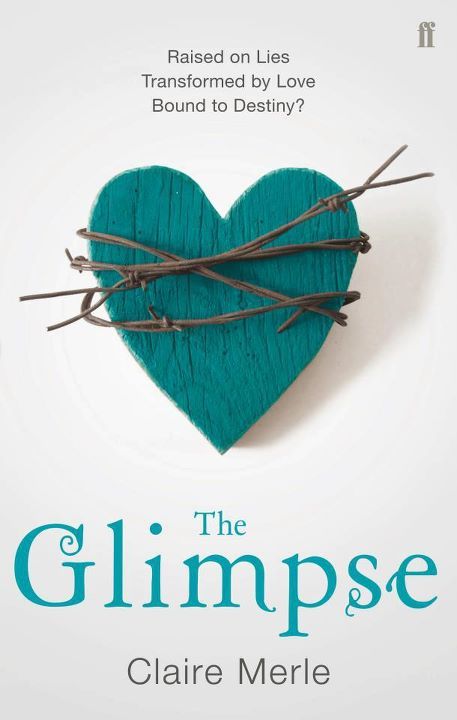 The Glimpse by Claire Merle
-
Throughout England people are now divided into Pures and Crazies according to the results of a DNA test, with the Pures living in small Communities cut off from the madness of society, and the Crazies living outside the walls in the squalor and mayhem of the City. Until the age of fifteen, Ana has lived a privileged existence amongst the Pures, but her whole world crumbles when she finds out that there was a mistake with her Pure test. She is actually one of the Crazies, and one day in the near or distant future she will become sick. But Ana has already been promised to Pure-boy Jasper Taurell. Jasper is from a rich and influential family and despite Ana's defects, wants to be with her. The authorities grant Ana a conditional reprieve. If she is joined to Jasper before her 18th birthday she may stay in the Community until her illness manifests. But if Jasper changes his mind, she will be cast out among the Crazies. As Ana's joining ceremony looms closer, she dares to hope she will be saved from the horror of the City and live a 'normal' life. But then Jasper disappears. Led to believe Jasper has been taken by a strange sect the authorities will not intefere with, Ana sneaks out of her well-guarded Community to find him herself. Her search takes her through the underbelly of society and into the pits of the human soul. And as she delves deeper into the mystery of Jasper's abduction she uncovers some devastating truths that destroy everything she has grown up to believe, but she also learns to love as she has never loved before.
From Amazon UK
----------------------------------------
The Pink Hotel by Anna Stothard has been longlisted for The Orange Prize or Fiction 2012.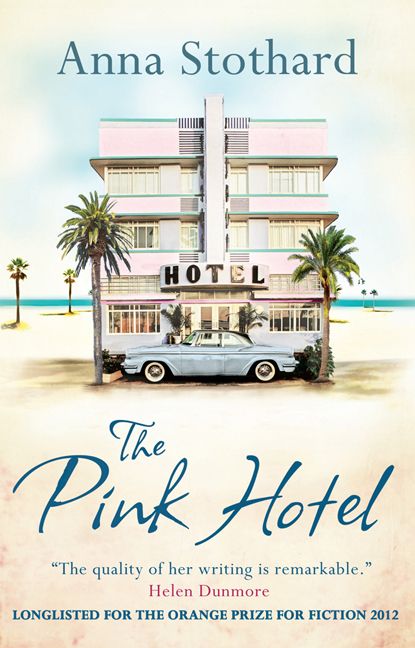 The Pink Hotel by Anna Stothard
-
A seventeen-year-old London girl flies to Los Angeles for the funeral of her mother Lily, from whom she had been separated in her childhood. After stealing a suitcase of letters, clothes and photographs from her mum's bedroom at the top of a hotel on Venice Beach, the girl spends her summer travelling around Los Angeles returning love letters and photographs to the men who had known her mother. As she discovers more about Lily's past and tries to re-enact her life, she comes to question the foundations of her own personality.
From the press release
----------------------------------------
And now for some trailers.
Infamous by Sherrilyn Kenyon:
You can also read the first two chapters
here
.
Daylight Saving by Edward Hogan:
----------------------------------------
Fancy going to the Department 19: The Rising launch and see Will Hill? Tickets cost £3.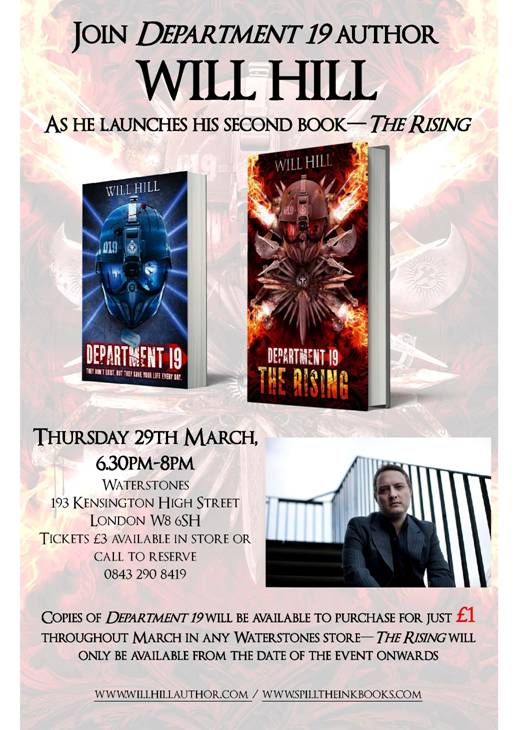 ----------------------------------------
Some Simon & Schuster news!
On March 12th, the Simon Kids UK Facebook page launched – a one-stop shop for all their books, including news, awards, events, review links, competitions, photos, videos and more! Please LIKE them at
www.facebook.com/simonkidsuk
.
This page is in addition to their existing FB pages –
Aliens Love Underpants' Page
,
Sophie McKenzie's Page
,
Simon Pulse UK Page
and
Simon and Schuster UK Page
.
As well as the new Facebook page, on 22nd March, Simon & Scuster announced The Blurb, a quarterly newsletter dedicated to their children's fiction list. S&S is home to bestselling and award-winning authors including Sophie McKenzie, Tony DiTerlizzi, Katie Davies, Philippa Gregory, Darren Shan, Jo Nesbø, Becca Fitzpatrick and many more.
In each edition of The Blurb you'll find news of upcoming titles, special features and author interviews, and the odd competition too, all guest-edited by a different member of the Children's team each issue. They hope it will be a great way for people to keep up to date with their latest titles, whether they are selecting the best reads for their bookshop, stocking the library or just reading for pleasure.
The first issue of The Blurb will be available early May 2012 and people can sign up
here
.
----------------------------------------
Mills & Boons Romance HQ Blog
talks about their Nocturn novel, Wolf-Whisperer by Karen Whiddon, and makes comparisons to The Hunger Games. Interesting post.
----------------------------------------
Some acquisitions from Simon & Schuster Children's Books.
Simon & Schuster Children's Books announced on 13th March 2012 a deal which sees author Steve Cole launching a new strand of illustrated middle-grade publishing with four new books.
Venetia Gosling, Editorial Director at S&S, bought UK & Commonwealth and translation rights in four illustrated middle fiction titles from Philippa Milnes-Smith at LAW. The books will be stand-alone titles, with the focus on author-branding. The illustrator partner will be a key part of the branding, and will be announced in due course. The first title, Magic Ink, will be published in March 2013, with subsequent titles publishing every 6-9 months.
Read the press release for more information
.
Simon & Schuster Children's Books announced on 21st March 2012 further titles for the bestselling Dork Diaries series by Rachel Renée Russell.
Jane Griffiths, editor at S&S, acquired UK and Commonwealth (excluding Canada) rights in two books from Angharad Kowal at Writers House UK. The deal comprises the fifth and sixth books in the popular series. As yet untitled, these new titles will be published in October 2012 and June 2013 respectively. Dork Diaries was S&S UK's most successful young fiction series in 2011. Sales of the UK editions have reached almost 700k copies, and worldwide sales across the series now stand at nearly 3 million copies.
Read the press release for more information.