I have a cover reveal and some trailers to share with you all.
First of all, the cover reveal for the UK cover of Black Dawn by Rachel Caine:
Black Dawn by Rachel Caine (released 1st May 2012)
-
In Last Breath, the rain brought a new and dire threat to Morganville and its vampires...their ancient enemies, the draug. Now, the vampires are fighting a losing war, and it will fall to the residents of the Glass House: Michael, Eve, Shane and Claire, to take the fight to an enemy who threatens to destroy the town, forever.
Lovers of Morganville, rejoice: Black Dawn takes the intrigue, romance and nail-biting suspense of the series to its highest level yet!
From AllisonandBusby.com
Gorgeous, huh? So looking forward to this one!
And now for the trailers.
A Witch in Winter by Ruth Warburton (released 5th January 2012)
-
Anna Winterson doesn't know she's a witch and would probably mock you for believing in magic, but after moving to the small town of Winter with her father, she learns more than she ever wanted to about power. When Anna meets Seth, she is smitten, but when she enchants him to love her, she unwittingly amplifies a deadly conflict between two witch clans and splits her own heart in two. She wants to love Seth, to let him love her - but if it is her magic that's controlling his passion, then she is as monstrous as the witch clan who are trying to use her amazing powers for their own gain.

When love is tangled up in magic, how can you be sure what's real?
From Amazon UK
UK trailer: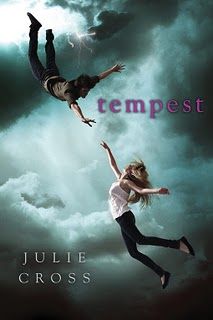 Tempest by Julie Cross (released 5th January 2012 in the UK, 17th January 2012 in the US)
-
The year is 2009. Nineteen-year-old Jackson Meyer is a normal guy… he's in college, has a girlfriend… and he can travel back through time. But it's not like the movies – nothing changes in the present after his jumps– it's just harmless fun.

That is… until the day strangers burst in on Jackson and his girlfriend, Holly, and during a struggle with Jackson, Holly is fatally shot. In his panic, Jackson jumps back two years to 2007, but this is not like his previous time jumps. Now he's stuck in 2007 and can't get back to the future. Desperate to somehow return to 2009 to save Holly but unable to return to his rightful year, Jackson settles into 2007 and learns what he can about his abilities.

But it's not long before the people who shot Holly in 2009 come looking for Jackson in the past, and these "Enemies of Time" will stop at nothing to recruit this powerful young time-traveler. Recruit… or kill him.
US trailer:


Check out the
Tempest Series Facebook Page
, where you can read the first four chapters.