Thanks to the lovely people at Indigo, I'm giving away a copy of Midwinterblood by Marcus Sedgwick as a Christmas treat!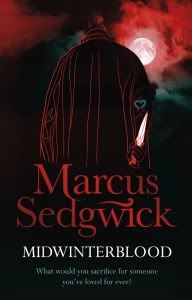 Midwinterblood by Marcus Sedgwick
-
Have you ever had the feeling that you've lived another life? Been somewhere that has felt totally familiar, even though you've never been there before, or felt that you know someone well, even though you are meeting them for the first time? It happens. In 2073 on the remote and secretive island of Blessed, where rumour has it that no one ages and no children are born, a visiting journalist, Eric Seven, and a young local woman known as Merle are ritually slain. Their deaths echo a moment ten centuries before, when, in the dark of the moon, a king was slain, tragically torn from his queen. Their souls search to be reunited, and as mother and son, artist and child, forbidden lovers, victims of a vampire they come close to finding what they've lost. In a novel comprising seven parts, each influenced by a moon - the flower moon, the harvest moon, the hunter's moon, the blood moon - this is the story of Eric and Merle whose souls have been searching for each other since their untimely parting. Beautifully imagined, intricately and cleverly structured, this is a heart-wrenching and breathtaking love story with the hallmark Sedgwick gothic touches of atmosphere, blood-spilling and sacrifice.
From Amazon UK
Rules:



Enter by filling in the form below.



One entry per person. Multiple entries wll be deleted.



Open to UK entrants only.



One winner.



Contest closes on 11th December.



The winner will be picked via Randomizer.org and announced on 12th December.



The winner's contact info will be passed on to my contact at Indigo, who will send out the prizes.



Please read my Privacy Policy.
***CONTEST IS NOW CLOSED!***