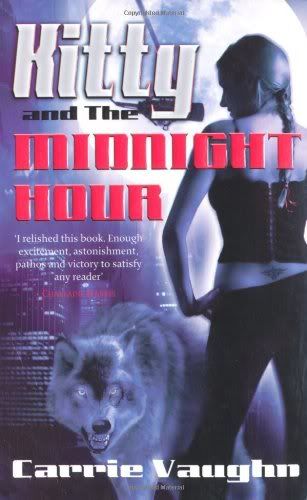 Kitty and the Midnight Hour by Carrie Vaughn
-
Kitty Norville is a midnight-shift DJ for a Denver radio station - and she also happens to be a werewolf. One night, sick of the usual lame song requests, she accidentally starts 'The Midnight Hour', a late-night advice show for the supernaturally disadvantaged. Almost immediately she's deluged by calls from desperate vampires, werewolves and witches from all across the country, wanting to share their woes and ask her advice. Kitty's new show is a raging success, but it's Kitty herself who could use some help, not least because her monthly change is a deep and dark secret to all but a very special few. And when she finds one very sexy werewolf-hunter on her tail, not to mention a few homicidal undead, she realises she may just may have bitten off more than she can chew...
From Amazon UK
I've recently been in the mood for more adult urban fantasy over YA so have been reorganising my TBR pile to find them. I knew I had Kitty and the Midnight Hour in there somewhere, and thought I'd give it a go. And now I'm not sure what I think.
Don't get me wrong, it wasn't bad, I did enjoy it to a certain degree, but it did feel very much like a first novel in a series. Despite the fact that there was a fair bit of action and excitement, and there was a complete plot. The way it's set up just seemed a little random to me. Kitty's radio show because an almost supernatural problem/discussion show, and because she now has the show, she ends up finding out things, and people want her to help them. It's like things just fall in her lap randomly. Things link together and make sense in the end, but it's how they come to her attention that I found a bit iffy.
There are two main storylines to this book; a rogue werewolf is killing young women, and someone wants Kitty dead. There is another storyline that will follow on, about a preacher who says he can cure the supernatural. Now the problem with the randomly falling into her lap is to do with the rogue werewolf, where as the trouble with someone wanting to kill her works better. Pack dynamics in this book are.. well, disgusting. I was actually moaning to my mate about how the alpha of the pack treated Kitty, and was thinking of putting it down because there is no-way reading it could be enjoyable. Carl, the alpha, is god. What he says goes. You do what he tells you to, when he tells you to do it, or else you get the beating of your life for undermining his authority. So when he says you have to quit your job, you're expected to do it. When he is "teaching you a lesson", you're supposed to take it. When he decides he wants to have sex with you, you allow him. Take out the supernatural element to this, and it's abuse, plain and simple, and it was completely disgusting to watch, seeing Kitty just accept that this is the way things are. It was awful. But when someone thinks the alpha is paying far too much attention to the "cub" of the pack, and might be gaining a bit too much power, well... instead of outright challenging, they're a bit underhanded about it, and trying to get rid of Kitty in other ways.
I have to beonest and say the way the alpha treated Kitty, and how she found out about things has kind of coloured my view of the story, but despite those things, it was actually really good. The action and excitement was spot on, there was intrigue, a possible romance, and certain things left open to carry on in the next book. So yes, through writing this review, I've decided I did enjoy this book, and I'm looking forward to reading the sequel, Kitty goes to Washington.
Published:
10 January 2008
Publisher:
Gollancz
Buy on Amazon US
Carrie Vaughn's Website