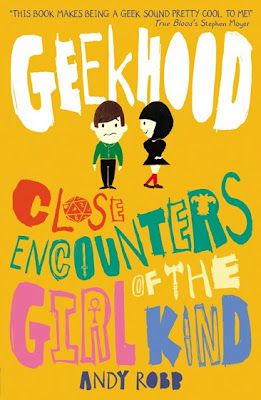 Geekhood by Andy Robb (ARC)
-
If you haven't worked it out yet, girls don't do this. They don't come to the Hovel. They don't like goblins and dragons. They don't paint miniatures. They don't play role playing games or re-enact fictional battles. And they don't talk to Geeks like me - especially if they're pretty. And this girl is pretty.

What do you do if you're a fourteen-year-old Geek, and a Beautiful Girl has appeared in the midst of your geeky world? And she seems to like you...

For Archie, the natural reaction would be to duck and cover... run for the hills... buy a new model elf... Anything byt risk stepping into the Real World.

But even Geeks have to put their heads above the parapet at some point.

With his mum barely able to contain her excitement that her son is about to join the human race, and his step-father, Tony the Tosser, offering crass advice, it's time for Archie to embark on a daring Quest to win the Beautiful Girl's heart and shake off his Geekhood for good...
From the blurb.
I think I'm a geek and didn't know it. I may not collect action figures, read superhero comics, or obsess over various sci-fi movies/tv programmes, but there are a few signs. I love The Big Bang Theory, I love Doctor Who, I love Torchwood. I could quite happily watch movies such as Lord of the Rings, Star Wars (all six of them!) and Star Trek (the latest, I'm afraid). And I can also watch Star Trek: Next Generation. And there's my huge love for fantasy novels. I believe there's a smidgen of the geek in me somewhere. So when I heard about Geekhood, it immediately appealed! And it's brilliant!
Whether it was Archie's social ineptitude around anyone other than his fellow geeks, his enthusiasm for the RPG game Dungeons and Dragons, or how his sarcastic Internal Monologue comments on everything that happens, if you're not laughing, you're at least smiling most of the way through the book. Geekhood is hilarious, Archie's voice and the way he sees things had me cracking up a fair few times. Although generally a funny book, it's also a really endearing and at times sensitive novel, with the lovely moments between Archie and his mum, and how he reacts to news from his Dad. I found I related to Archie and some of the situations he found himself in at times, and got so emotionally involved, that when things weren't going as well as he would have liked, it clouded my mood for a few hours even once I put the book down - even though everything is sprinkled with humour, I felt really bad for Archie, and got so annoyed at people and how they treated him, and was quite angry for a while. Archie could be a little daft though, and he did annoy me sometimes with the things he did to impress Sarah, the girl he's chasing. I just wanted to shake him and shout "What
are
you doing?!"
The geeky parts of the book I found really fascinating - mainly because I'd never really got what an RPG game was, and I actually found myself thinking they could be pretty fun (I know, I worried about myself too). I found it odd that there wasn't a lot of movie and TV discussions between the geeky boys. I think I've spent too much time watching The Big Bang Theory, so I was expecting arguments over which sci-fi character was better than the other. There was no mention of comics or action figures. What I thought was the definition of "geek" was turned on it's head. Seems there are many ways of being a geek! I did love when Archie likened certain situations he was in to parts of movies, mostly Lord of the Rings - having watched the movies and enjoyed them, I knew what he was talking about, and it just added to the humour.
If there were any negatives, I wasn't the biggest fan of Sarah's pasttime. I won't spoil it for you, but as nice as she was, she grated on me with all her talk and how she kind of pushed things onto Archie. I was also a little crestfallen with the end! I got it completely wrong! And what I wanted to happen, didn't quite happen! Though it was generally a pretty good ending, and has left it open for the sequel -which I'm really looking forward to reading! Overall, a really good read, and I highly recommend it!
Thank you to Stripes Publishing for sending me a review copy.
Published:
7th May 2012
Publisher:
Stripes Publishing
Andy Robb's Website
Geekhood Website