Today, I have a guest review from my mate, Adam Page. This book was sent to me for review, but isn't really my thing, so Adam kindly agreed to read and review it. So thank you, Adam!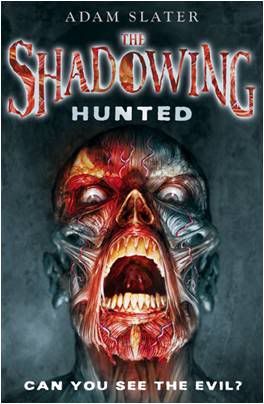 The Shadowing: Hunted by Adam Slater
-
The girl lies by the canal, her face turned upwards like a stargazer. But she will never see the stars again. Her eyes have been torn out. The rain fills the empty sockets until they brim over, spilling bloody tears down her cold, white cheeks. Once every century, the boundary between the demon Netherworld and the human world weakens. Legions of creatures gather, preparing to cross over, to bring death and destruction. This time is called The Shadowing. Callum has always known that there is something beyond the mortal world - he can see ghosts. Lately, he's started to have horrific visions of children murdered by some terrible, unseen creature. And then the visions start to come true - and Callum realises he is being hunted too. But Callum must stay alive. He is bound by a dark destiny, and must stand against the demon forces that threaten our world forever. For it is nearly time. The Shadowing is coming...
From Amazon UK
"Its head was a mass of wet, gleaming veins and cartilage, muscle and teeth..."
I was asked to review Adam Slater's novel as I am quite a horror aficionado, and put quite simply, I loved it.
I must admit, I was a bit dubious when I received it. I am not really a reader of YA, but I settled down, opened it up and read the prologue. Then it was two hours later and I was almost halfway through the book.
In brief, the story follows Callum Scott, a "chime child", who can see ghosts and prevent future tragedies. He lives with his grandmother who protects the home with a number of spells. His powers begin to increase and he finds himself being pursued by the vicious Hunter, who is attempting to kill all chime children. Finally, reluctantly, he knows he must destroy it.
From the opening page, I was hooked. Obviously most horror requires suspension of disbelief, and this is no different. But once you do that, you will find yourself sucked into Callum's world.
The book is fast-paced but not overly so. As I say, I read nearly half of it in two hours but it is not just one action scene after another. It never feels rushed and is a joy to read. Slater never tones down the details, and that includes the gore. When dealing with what the Hunter does, and the trail of bodies he leaves, I have to say that it isn't for the squeamish and younger readers might have trouble with it. Older readers, however, should love it. While it can be gory, it is never over-done. So many horror novels out there concentrate too much on the blood'n'guts part of their story but this strikes just the right balance. You get the evil of the Hunter without lingering too long over the details.
Callum has help throughout the novel and he does not battle on his own. But I don't want to go into too much detail as the book is intricately plotted and to give away too much would ruin it.
For me, horror only works when you can put yourself in the character's place. Can you see yourself in that situation? Can you feel their fear, their confusion? This is what makes true horror great. All of us like a fright. And this novel succeeds in that brilliantly. I always wanted to read on. It has a real 'gotta' quality. As in; "I'll go to bed soon. I just gotta see how this chapter comes out."
One of my favourite horror novels is Stephen King's "It" and its themes of school children reluctantly battling a shape-shifting monster is one of the things that drew me into The Shadowing. Reading it, I was reminded positively of King's work. The characters were real to me. I cared about them. Again, a vital requirement of horror. A basic rule is the more fantastic the situation, the more real the characters have to be. And Adam Slater creates a world, and characters, rich with detail.
I also enjoyed reading from the Hunters point of view. This is a plot device that many horror stories ignore to their cost. While the Hunter is frightening, reading first person from him puts the reader right there with him. He becomes more than just a generic monster into a character you can identify with. Much more frightening.
I love horror. Like I say, we all love a fright. Even people who profess to hate horror, still have deep in them that urge to be frightened. It's there from birth. When Alfred Hitchcock was asked why we love to be scared, he replied; "What's the first thing we do when we see a baby? Lean over it and go 'Boo!'"
When I read horror, I ask myself does it make the pulse pound? Does it make the heart palpitate? Are the fear glands pumping? In this case, the answer is a resounding yes.
P.S. The copy I received contained the first chapter of the second book in the series, Skinned. If that chapter is anything to go by, the rest of the book will be as good as the first...
Thank you to Egmont for sending a review copy.
Published:
2nd May 2011
Publisher:
Egmont