Today it's my turn for the Across the Blogosphere Challenge! Don't know what I'm talking about? Read on...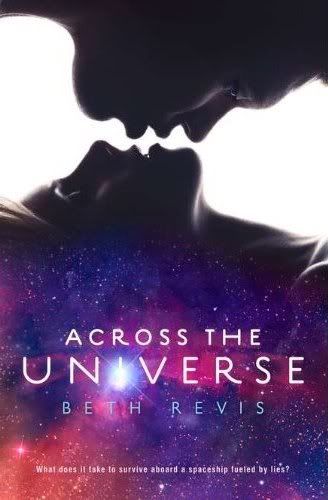 ENTER THE 'ACROSS THE BLOGOSPHERE' CHALLENGE AND WIN A ZERO GRAVITY EXPERIENCE FOR YOU AND A FRIEND!!

Come on board and enter the 'Across the Blogosphere' challenge to celebrate the UK launch of
Across the Universe
by Beth Revis & WIN the chance to experience zero-gravity!

All you need to do is follow the blog schedule below and make a note of just ONE item that ONE of the bloggers would like to add to a time capsule of 2011. You will also need to make note of Beth Revis' time capsule item, which will be uploaded to the Across the Universe UK Facebook page AT RANDOM during this week.

Become a fan now, so you don't miss out!




So, that's only TWO items in total- ONE from any of the blog sites listed and ONE from Beth Revis that you'll find on facebook.

ACROSS THE BLOGOSPHERE CHALLENGE BLOG SCHEDULE

Monday 28th February: Wondrous Reads
Tuesday 1st March: Once Upon A Bookcase
Wednesday 2nd March: So Many Books, So Little Time
Thursday 3rd March (PUBLICATION DAY!): Narratively Speaking

THE PRIZE IS AIRKIX KIK-START vouchers for you and a friend to experience the thrill of indoor skydiving! (Manchester & Milton Keynes). Find out more here: http://www.airkix.com/

Enter here to WIN!

Good luck! :)
Now seeing as this is a time capsule to go on a spaceship for when it lands several hundred years in the future... then I think, by that time, we would have created "keep fresh for however long you want" food storage bags. And so, because we'll have them, I'll be taking with me a packet of...
GALAXY COUNTERS
Now keep a note of my item for the time capsule, and go a-looking for Beth's item on the
Facebook page
! Alternatively, you can visit
Wondrous Reads
and see which item Jenny put in the capsule yesterday, or visit
So Many Books, So Little Time
tomorrow to see what Sophie puts in! Good luck!
Across the Universe will be released on Thursday. Check out
my review
and pre-order it from
Amazon UK
.