This week's bookish news!
News on the fourth novel in the Inheritance Cycle: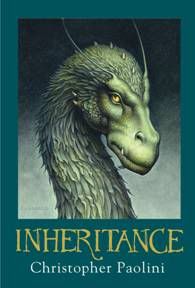 Random House Children's Books announces final book in Christopher Paolini's Inheritance Cycle London (23rd March 2011) The fourth and final book in Christopher Paolini's global bestseller Inheritance Cycle will be published this autumn. Following the number one bestselling novels Eragon, Eldest, Brisingr, the book will be called INHERITANCE. 'The burning questions asked by fans around the world will be finally answered in this last instalment,' said Christopher Paolini. 'All will be revealed!'

INHERITANCE will be published in the UK on Tuesday 8th November 2011, simultaneously with the US, Canada, Australia and New Zealand, priced £18.99. It will also be available in ebook and audio editions.

Publication will be backed by a major marketing and publicity campaign, including cinema advertising, innovative and content-rich digital marketing activity, a book video trailer and media coverage.

All Sunday Times bestsellers in the UK, Eragon, Eldest and Brisingr have been international publishing sensations. The first three books have sold over 25 million copies worldwide, including more than 4 million copies in the UK and Export markets.

Eragon, Eldest and Brisingr will be reissued in paperback in the UK on 7th July with new cover designs that breathe new life into John Jude Palencar's stunning artwork.
-----------------------------------
Last Monday, Hodder & Stoughton held an event with Lauren Oliver to celebrate it's release (I was there, it was amazing!), and they made a video! Check it out...
You can also read event reports at
The Crooked Shelf
,
Wondrous Reads
, and
Feeling Fictional
.
-----------------------------------
I found the following blog post over on
Portrait of a Woman's Sunday Brunch
, and thought it was just too cute!
Date a Girl Who Reads
. (In my opinion, I think it works for guys too!)
-----------------------------------
Books to check out:
Playing Hurt by Holly Schindler (released 1st April 2011)
-
Star basketball player Chelsea "Nitro" Keyes had the promise of a full ride to college—and everyone's admiration in her hometown. But everything changed senior year, when she took a horrible fall during a game. Now a metal plate holds her together and she feels like a stranger in her own family. As a graduation present, Chelsea's dad springs for a three-week summer "boot camp" program at a northern Minnesota lake resort. There, she's immediately drawn to her trainer, Clint, a nineteen-year-old ex-hockey player who's haunted by his own traumatic past. As they grow close, Chelsea is torn between her feelings for Clint and her loyalty to her devoted boyfriend back home. Will an unexpected romance just end up causing Chelsea and Clint more pain—or finally heal their heartbreak?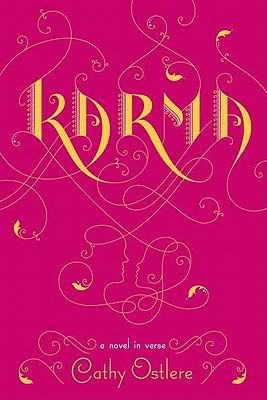 Karma by Cathy Ostlere (released on 31st March 2011)
-
It is 1984, and fifteen-year-old Maya is on her way to India with her father. She carries with her the ashes of her mother, who has recently committed suicide, and arrives in Delhi on the eve of Prime Minister Indira Gandhi's assassination - one of the bloodiest riots in the country's history. Then Maya is separated from her father and must rely upon the help of a mysterious, kindhearted boy, Sandeep, to safely reunite them. But as her love for Sandeep begins to blossom, Maya will have to face the truth about her painful adolescence . . . if she's ever to imagine her future. In this gorgeous, haunting portrait of love, loss, and growing up, Cathy Ostlere - in masterful strokes of verse - has created a simply unforgettable read.
From Amazon US