This week's book news!
There is a blog tour going on to celebrate the release of West of the Moon by Katherine Languish, an omnibus of the novels Troll Fell, Troll Mill and Troll Blood. The tour has already started, with the first stop at
Katherine's blog
, where she discusses the journey this series has taken her on. Click on the banner below for all other tour stops.

---------------------------------------------------
Emma of
Asamum Booktopia
is going to be celebrating Wales, along with other fellow bloggers, on 1st March - St. David's Day. If you'd like to take part, all you have to do is review a Welsh book/write a Welsh themed post/celebrate a Welsh author. You can check out a list of Welsh authors
here
.
---------------------------------------------------
Books to check out: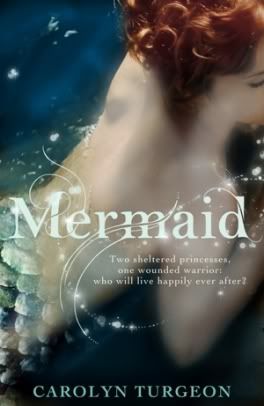 Mermaid by Carolyn Turgeon (released 3rd March)
-
While in hiding at a remote convent, a king's daughter sees a magical being dragging a shipwrecked man to the shore. The creature is a mermaid princess – the youngest daughter of the Sea Queen – but she shares more with her human counterpart than her royal blood.

By saving a young man's life, both women have sacrificed their hearts. In one moment, the lives of the princesses, mortal and mermaid, are transformed forever.
From Amazon UK
The Devil's Triangle by Mark Robson (released 31st March 2011)
-
The Bermuda Triangle has cast a shadow over Sam and Niamh Cutlers' lives since their mother vanished nine years ago. Her whereabouts remains a mystery and every year they return to the Florida Keys with their father, Matt, who is obsessed with solving the haunting puzzle. But Sam is bored with lazing around by the pool while his father hunts for the truth. Craving excitement, he and his friend, Callum, "borrow" Matt's boat. At first it's great fun, but when they find themselves marooned in a terrifying land, the boys realise they too have fallen victim to the Triangle's mysterious effects. Can they find a way home, or will they be lost forever?
From Amazon UK