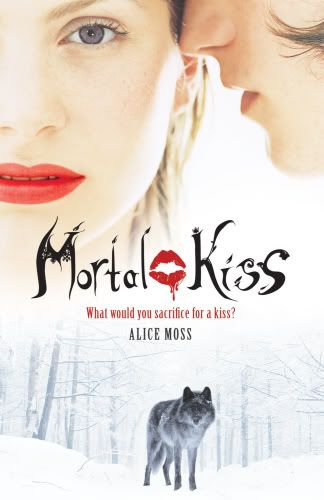 Mortal Kiss by Alice Moss
-
How much would you sacrifice for just one kiss...

When smouldering Finn and sexy Lucas arrive in Winter Mill, life starts to get very complicated for Faye McCarron.

But two boys battling for her heart is just the start. Soon there's a dead body in the woods, a motorcycle gang on the prowl, and the snow just won't stop falling. Something evil is at work, and only Faye and best friend Liz can stop it. As Hallowe'en draws near they must uncover the dark and sinister secret... before it's too late.

Love paranormal romance, werewolves and ethereal spirits? Then this book is for you!
From Amazon UK
I originally read this story when it was serialised on
Stardoll
, a gaming site for teenagers. Over a period of eight weeks, a chapter was released each day. I found out about it quite late on, when it was almost finished, so I had to catch up over a series of three days. All in all, I quite enjoyed it.
Although I enjoyed it, I would say this is a book aimed at teens at the younger end of the spectrum, 11-14 year olds. Although the characters in the novel are 16, they act very young. Almost every teen girl gets really interested in clothes and make-up at some point, but as they get older, although keeping the interest, they find other things that interest them too. Where as with Faye and her best friend Liz, this is their main interest, and react to things very much like a young teen would. Young teen novels aren't really my thing, so I found this aspect fairly annoying, but I was intrigued by the story so I kept reading anyway.
I quite liked the mythology behind the paranormal aspects of the novel. The history of the werewolves, who and why they are, was pretty intriguing and pretty unique, I thought. There were some aspects, however, ones I can't get into, I felt weren't explored well enough for my liking. It almost felt like no-one asked "why?", it was just accepted that things are like that. I would have liked more detail, more information. There was just enough to keep you reading in the hopes that it would be explained further, but it wasn't. The way the book ended leaves me with the impression that there will be a sequel, so maybe there will be more in next book.
I did like that the story was loosely based on a famous poem by an English poet, I can't tell you which without giving some of the story away. It didn't fit exactly in my opinion, but I still think it was a great way to incorporate such a famous poem into a story for young teens. Hopefully it will get teens interested in poetry!
For myself, I would have prefered it if the characters acted older, I would have believed the story a bit more if they seemed more realistic through their age. I also think the story could have been longer and filled in some of the gaps, but generally, it's a pretty exciting story! It's something I'd much prefer to read as an online story than as a book, though. The style is too young for me, personally, to love in book form. I'd say this is a book you should get your younger sister, then borrow it off her.
Thanks to Random House for sending me a review copy.
Published:
6th January 2011
Publisher:
Bantam Books
Buy on Amazon UK
Buy on Amazon US