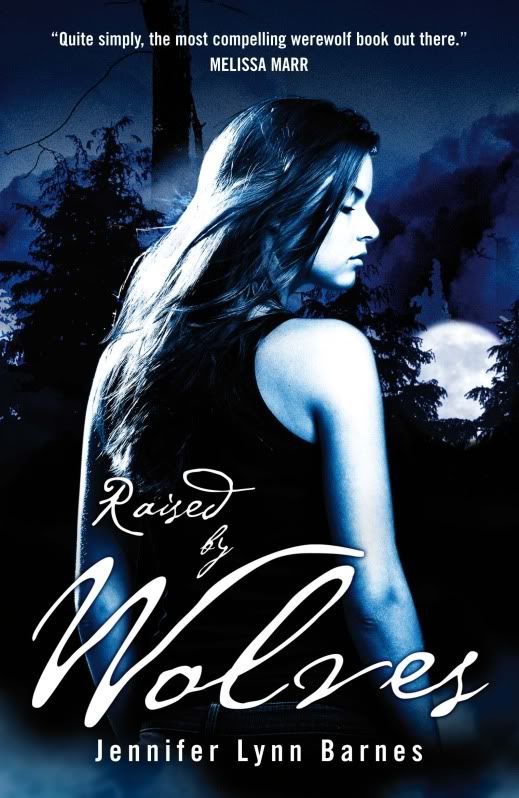 Raised by Wolves by Jennifer Lynn Barnes
I was sent this review copy for free by Quercus for the purpose of providing an honest review.
Pack life is about order, but Bryn is about to push all the limits, with hair-raising results. At the age of four, Bryn watched a rabid werewolf brutally murder her parents. Alone in the world, she was rescued and taken in by Callum, the alpha of his pack. Now fifteen, Bryn's been as a human among werewolves, adhering to pack rule. Little fazes her. But the pack's been keeping a secret, and when Bryn goes exploring against Callum's orders, she finds Chase, a newly turned teen Were locked in a cage. Terrifying memories of the attack on her parents come flooding back. Bryn needs answers, and she needs Chase to get them. Suddenly, all allegiances to the pack no longer matter. It's Bryn and Chase against the werewolf world, whatever the consequences. A thrilling new YA adventure, with an electrifying link between a tough heroine and an exciting boy-were at its heart, Raised by Wolves will leave you howling for more.
From Amazon UK
Werewolves and the paranormal, you've got to love it. Or you would if you're me. Regular readers of my blog will know how much of a fan I am of all things fantasy and paranormal, so I was really looking forward to reading Raised by Wolves when I picked it up. Having finished reading this book, I'm not sure what I think. I liked the novel, but I wasn't as wowed as I expected to be.
The whole premise of this novel is something I haven't come across before - not in anything other than The Jungle Book. An orphan child, Bryn, is taken in by a pack of werewolves after a rabid wolf attacked and killed her parents and went for her. The alpha of the pack, Callum, Marked her (read: bit), and through doing so, created a bond between her and the rest of the pack. If she doesn't keep her walls up, Bryn will be mentally connected to every single wolf in the pack. She knows pack law, she knows about dominance and she knows she isn't really one of them, but it's the only life she knows.
It's intriguing. For the purpose of the world building, the pace starts off fairly slow. The reader needs to find out about the alpha, about the pack, about Bryn's place in it. The reader needs to know enough about this world to get why, when things start happening, something isn't right. That isn't to say that the world building is dull, it's really interesting finding out the rules and positions of the characters in the book. The only thing is, when things do start happening, the plot's pace gets only a little quicker, and stays there for most of the story. There aren't too many highs or lows, and though it's still a good story, it wasn't as action packed as I was expecting for a werewolf book.
There were times when the book started to remind me of some of my favourite adult urban fantasies; the Shifters series by Rachel Vincent, and the first book in the Night Huntress series by Jeaniene Frost, Halfway to the Grave. The plot is in no-way similar to these other novels, but aspects of the novel reminded me of them. The training, the way the werewolves shift. There was enough to make the meerkat in me stand to attention and rekindle my interest. But they were only moments.
The climax of the book, how things went, was a complete surprise to me. I didn't see any of it coming, and thought it was a pretty awesome twist, but it ended to quickly for me. I turned the last page expecting more. The danger didn't feel that dangerous, the love didn't feel that powerful. The book just generally wasn't as exciting as I was hoping it would be. Still, as I said, I did enjoy it, and I am looking forward to seeing what happens next in the next book in the series, Trial by Fire.
Thank you to Quercus for sending me a review copy.
Published:
16th September 2010
Publisher:
Quercus
Jennifer Lynn Barnes' Website