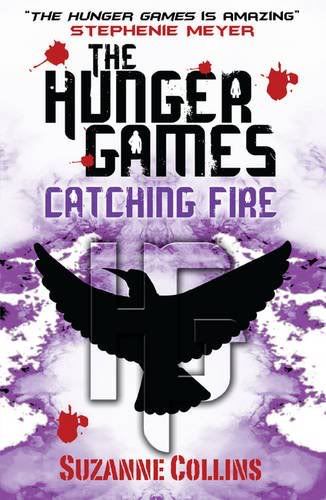 Catching Fire by Suzanne Collins (review copy) -

WARNING!

I cannot review this book without spoiling the first in the series, The Hunger Games. Do not read any further if you plan on reading The Hunger Games and don't want spoilers.
After winning the brutal Hunger Games, Katniss Everdeen returns to her district, hoping for a peaceful future. But Katniss starts to hear rumours of a deadly rebellion against the Capitol. A rebellion that she and Peeta have helped to create. As Katniss and Peeta are forced to visit the districts on the Capitol's cruel Victory Tour, the stakes are higher than ever. Unless Katniss and Peeta can convince the world that they are still lost in their love for each other, the consequences will be horrifying... The terrifying sequel to The Hunger Games.
From Amazon UK
Seeing as I had received my review copy of Mockingjay, but hadn't yet read Catching Fire, I thought I should get a move on sharpish. I absolutely adored The Hunger Games, but for some reason, wasn't all that enthusiastic in picking up Catching Fire. But now I've read it, I wish I hadn't waited so long! This book is so amazing, I am quite literally speechless.
As some people on Twitter will know, when I first started reading, I wasn't pulled in right away. I still had reservations for unknown reasons - probably scared it wasn't going to match up to the first book. I have to say, although it was never boring, it did take a while for Catching Fire to pull me in, but once it had, that was it. I rarely put the book down. And it was sooo exciting!
And you know the worst thing? I have no idea how to talk about this book in the detail I'd normally go into without spoiling it. So much happens, so much you don't expect, and it all starts from the beginning! I can tell you that the characters are still amazing. Katniss is just as awe-inspiring as she was in The Hunger Games. Peeta has grown on me considerably; I never disliked him, but I didn't love him either. Now he's just the sweetest guy. But I'm still a big fan of Gale's. He's just so determined to do what's right, he's just amazing.
The action is just as good as in The Hunger Games, but in a different way. I really can't say much more than that. It's exciting, and has you on the edge of your seat, and is just completely wow! And the cliffhanger! Oh my god! The cliffhanger makes me glad that I did wait this long, so I can now pick up Mockingjay to find out what happened. Just amazing. I cannot recommend this series enough!
Thank you to Scholastic for sending me a review copy.
Published:
7th September 2009
Publisher:
Scholastic
Buy on Amazon UK
Buy on Amazon US
Suzanne Collins' Website
The Hunger Games UK Site
My review of
The Hunger Games
on Ink and Paper