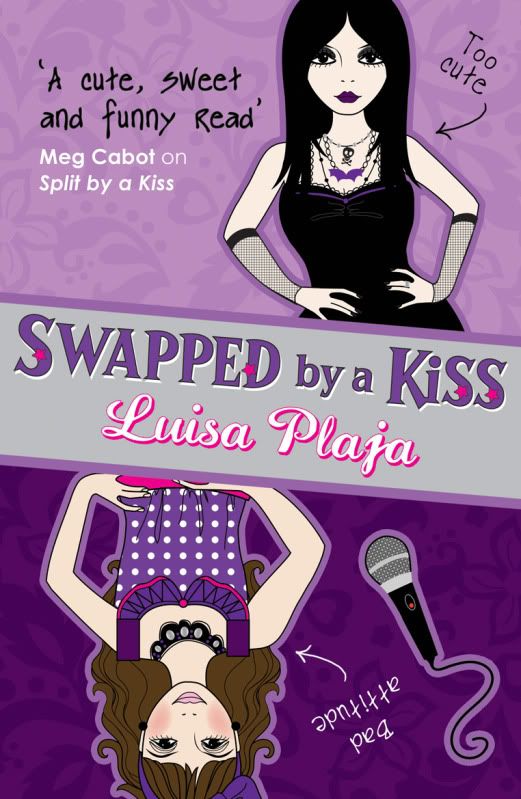 Swapped by a Kiss by Luisa Plaja (review copy)
-
WARNING!

I cannot review this book without spoiling the first book, Split by a Kiss. Do not read any further if you plan on reading Split and don't want to be spoiled.
I wish I wasn't myself anymore.I wish I was
her.
I wish I was Jo.Rachel hates her life. Wen her on/off boyfriend David goes to a music festival, she decides to surprise him - but she gets a shock of her own. Not only does she find David kissing someone else, but it's their friend Jo! Super-lovely, super-loved, all-round perfect
Jo.
Rachel runs away, wishing she could leave her life behind - and she suddenly finds herself in Jo's body! Can she keep this swap a secret? Can she unravel what's really going on? Can she get to grips with Jo's out-of-control curly hair?And if she discovers that being in someone else's shoes isn't all it's cracked up to be, can she ever be herself again?
From the back of the book.
As most of you will know, I am a huge Luisa Plaja fan. I loved Split by a Kiss, the first in this duology, so when I was offered the chance to review Swapped by a Kiss, I jumped at the chance! And just as I expected, I loved it!
Swapped starts a few months after Split ends. Jo is with Albie, Tori is friends with Jo now instead of the popular gang, and most importantly Rachel is with David. Ish. With her fiery personality and raging jealousy, arguments are common between the two of them. One such fight happens before David goes to England for a festival, but when Rachel decides to surprise him by turning up at the festival, he finds him kissing Jo.
Jo splitting in two in the first book was just awesome. Following her down two different paths at the same time was awesome, but watching Rachel in Jo's body, trying to be British
and
nice was just genius! I didn't really relate all that much to Rachel, as she's hugely into graphic novels, comics and superheroes - not really my bag. But I sympathised with her and her situation. Not only are the guys in Rachel-Rachel's and Rachel-Jo's life "dastards", but there are more serious issues running through the book; identity and self-image.
Before the swap took place, it was heart breaking to read Rachel's thoughts about herself, and about Jo. What it says above in the blurb, "Super-lovely, super-loved, all-round perfect Jo," is exactly what Rachel thinks of her, where as she describes herself as "oversized". She believes she's a nightmare, and if she was Jo, she wouldn't have to deal with the crap going on in her life, and everyone would like her better - especially David. It's just awful having to read about Rachel's low self-esteem and her other issues, and not being able to give her a hug. It's really sad!
However, this is not to say Swapped is hard, emotional reading. Swapped is quite a light, humourous read, and pretty fun. The scrapes Rachel gets herself into in Jo's body are just hilarious. Attempting to use British words, and make up fake swear words - because that's what British people do - is cause for much laughter. Jo's diary entries of conversations she has with Rachel's mum, while pretending to be angry, unkind, and American are also hilarious.
All in all, a great quick, light, fun read that touches on some serious subjects. This would make such a good beach read! I loved it, and I so hope there is going to be another story about these characters. Maybe involving one of the boys this time!
Thanks to Random House for sending me a review copy.
Published:
29th April 2010
Publisher:
Random House Children's Books
Buy on Amazon UK
Buy on The Book Depository
- free international shipping
Luisa Plaja's Website
My review of Split by a Kiss
Other Reviews:
So Many Books, So Little Time
The Book Sloth
I Was a Teenage Book Geek