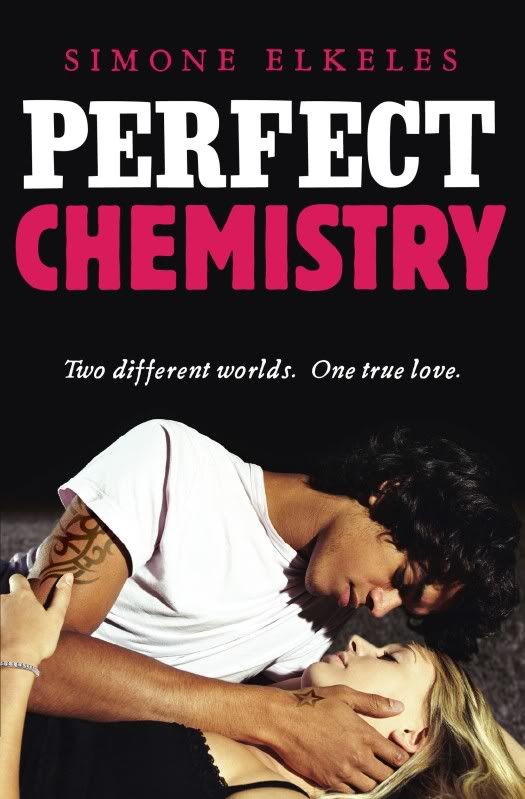 Perfect Chemistry by Simone Elkeles (review copy)
-
When Brittany Ellis walks into chemistry class on the first day of senior year, she has no clue that her carefully created "perfect" life is about to unravel before her eyes. Forced to be lab partners with Alex Fuentes, a gang member from the other side of town, Brittany finds herself having to protect everything she's worked so hard for - her flawless reputation, her relationship with her boyfriend and, most importantly, the secret that her home life is anything but perfect. Alex is a bad boy and he knows it. So when he makes a bet with his friends to lure Brittany into his life, he thinks nothing of it. But the closer Alex and Brittany get to each other the more they realise that sometimes appearances can be deceptive and that you have to look beneath the surface to discover the truth.
From Amazon UK
When I received Perfect Chemistry for review, I was pretty pleased. I heard a lot of people had good things to say about it, and so was intrigued, though I was particularly wowed by the blurb, but I thought I'd give it a go. I cannot tell you how amazing Perfect Chemistry is! I am not the fastest reader going, and Perfect Chemistry isn't exactly a skinny book, but it was so good, I couldn't put it down, and read the whole thing yesterday. I loved it!
This book is about so much more than just a love story. It's also about accepting yourself for who you are, being yourself, and not living by the social rules of your environment. It was fantastic to see how these two very different people – Brittany, who is little miss popular and Queen Bee of high school, and Alex, dangerous gang member who strikes fear into just about everyone – were so similar. How they are seen by the outside world is nothing compared to who they are inside, but a front they put on for reasons far more serious than social acceptance.
I love the way the story was structured, with mostly alternating chapters from both Brittany and Alex's points of view in first person. It was brilliant to really get inside their heads, to see what they were hiding, yet see their misconceptions of the other. It's not completely original, but it was brilliant.
It was great to see them struggle with their individual lives, having pretty much no-one to confide in about their issues, and then seeing them thrust together to, little by little, learn to trust, open up, and let the other in. They are both so much more complicated than the other thought; Brittany is a nice, good person, rather have superficial and arrogant, and Alex is fiercely loyal and protective of his family, and does what he must to keep them safe. Watching them fall in love as they realise they may have actually found someone who understands is just beautiful.
As I said before, Alex is a gang member, but the fact that this is a romance doesn't mean that Simone shies away from what that means to Alex. Everyone knows gangs are dangerous, but it was shocking to see just how much. Alex's pretence is not only for what others think of him, but for what his friends and his fellow gang members think of him. If the guys on top got even a whiff that he is anything but fiercely dedicated to the gang, not only his life would be at risk. There is violence, drugs, and extreme fear running throughout this book; it's dark and gritty, and there's no lack of suspense. It's hard not to admire Alex for what he has to live through, day in and day out, knowing if he takes his eye off the ball for one second, that could be it. It's thrilling for a book, but deeply disturbing to considering this
is
life for some people.
The issue of living with a disabled relative is also covered in this book. Brittany is carrying around so much guilt that she was born "normal" while her older sister wasn't, and is also having to deal with a mother who is perpetually on the edge of breaking down at the possibility of the slightest scandal – what would the neighbours think? Brittany has to deal with so much pressure, from in and outside school, it's admirable, though unfair, that she plays the worry free pampered princess so well.
This book is just incredible, and I finished it with the urge to cry at just how beautiful it is. Perfect Chemistry is far from a simple love story; it's complicated, it's dangerous, but it's completely wonderful. There really is no way for me to express how much I have been touched by this book, and I really look forward to reading more of Simone's novels. If you don't read this book, you're missing out on something completely unforgettable.
ETA:
I've been made aware that we can expect a sequel to Perfect Chemistry! Rules of Attraction, which follows Carlos, Alex's younger brother, comes out in America 13th April 2010! I just hope it'll be released in the UK too!
Thanks to Simon & Schuster UK for the review copy.
Published:
1st April 2010
Publisher:
Simon and Schuster UK
Buy on Amazon UK
Buy on Amazon US
Simone Elkeles' Website
Other reviews of Perfect Chemistry:
Wondrous Reads
Reading in Color
Sarah's Book Reviews
Emily and Her Little Pink Slips