I know I'm a little late in posting this, and I'm sorry, but I only received news about it today. I also know that I've not mentioned the Vampirates series before, but after reading three very positive reviews, it's a series I'm going to start. Here's the info for you: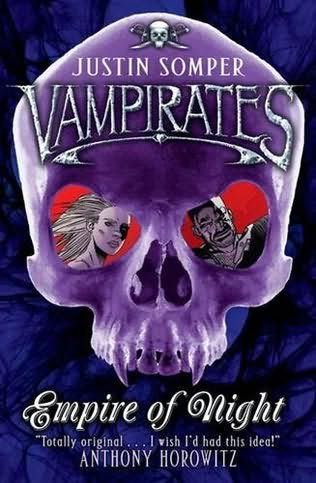 3/5 Interview, Chat and Contest With UK Author Justin Somper on Bitten By Books. Event starts at 12:00 pm Central and runs all day and into the night. Contest runs until 11:59 pm Central on 3/6/10. For those visiting fr om outside of the US, here's the time conversion. We are in the Chicago time zone:
http://www.timeanddate.com/worldclock/
Description: Join us with author Justin Sompert for an Interview, Chat and Contest at
http://bittenbybooks.com/
. He will also be talking about his new release Empire of Night. CONTEST: Prize 1: One signed set of the Vampirates series with a bundle of vamps goodies (poster, tattoos, postcards, bookmarks, badges). Prize 2: 10 unsigned sets of the complete Vampirates series
These are UK titles so they will have the UK covers, AND book 5 is not even available in the US until August so you get to read it EARLY if you win! Open to readers worldwide!
This means today, now. So get a move on, head on over to Bitten by Books, get reading and get entering! I definitely will!