Lindsey Leavitt, YA debut of Princess for Hire, has kindly written a guest post for us all! And after the guest post, Lindsey is going to take part in a discussion regarding pink covers! But now, over to Lindsey
Pink Power!

by Lindsey Leavitt
As some readers know (but many don't), authors have very little say in cover design. Usually, an author doesn't even know it's being created until an email pops up into the inbox with an attached image. You can imagine how nerve-wracking it is clicking that file open. What if I hate it? What if everyone else hates it? What if it's so good that everyone likes the cover but hates my words?

Early on, I had casual conversations with both my UK and US editor asking if I had any thoughts about cover design. I said the only thing I really could picture was colors. I wanted a lime green cover to match one of my character's hair color. And more important, I DIDN'T want pink.

Their reaction was probably yours. Um... you know this book IS about princesses, right? Pink communicates that this book is fun and girly. Pink is eye-catching. Pink is a given.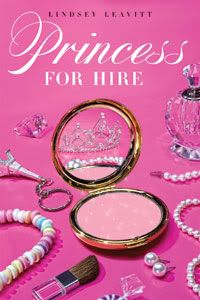 But I had a rocky relationship with the color pink. It scared me. Growing up a total tomboy, I was worried that wearing pink meant I was trying to be someone I wasn't. Really pretty girls with bouncy curls wore pink, not Plain Jane me. I even remember the day I wore my friend's pink sweater to school when I was fourteen. EVERYONE had a comment. It was another two years until I wore pink again. Plus, there is a stigma in publishing about "pink books" that somehow something fun and frothy is of less value than other literature. I didn't want people skipping over mine because it seemed to... pink for them.

My US editor called me before she sent me my cover file so she could hear my reaction when I saw it. I clicked it open and paused. "Wow."

"I know!" she gushed. "Isn't it glamorous?"

"It's... wow. It's pink."

"Do you love it?"

"It's beautiful. It's.. it's really pink, isn't it?"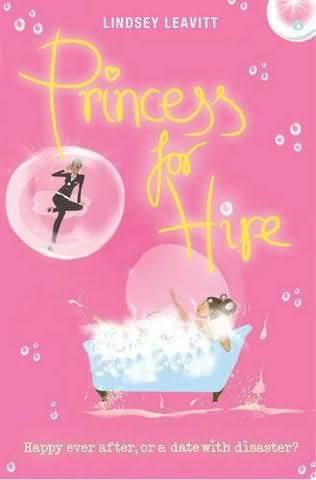 It took a few days for the Pink Shock to wear down. I printed off my cover and hung it on the wall. I talked to it as I wrote. We became close friends. And somehow, over time, I fell in love with it. I began to see how empowering the color was. Pink is bold and bright and beautiful. It does what my main character sets out to do--makes an impact. Most importantly, it screams girl! and hey, that's my target audience (although boys, if you read, you'll discover girly secrets! Promise!).The reason my book is purchased could very well be BECAUSE of the pink.

A few months later, I got an email from my UK editor with PRINCESS FOR HIRE COVER in the subject line. I held my breath and clicked it open. My reaction?

"Wow. It's PINK!"
Thank you Lindsey for such a great guest post! Aren't her covers gorgeous? Princess for Hire is released in the UK today, and can be bought on
Amazon UK
, and it will be released in the US on 16th March, and can be preordered on
Amazon US
. Visit
Lindsey Leavitt's website
.
And now for the discussion! Are pink covers a good thing or not? It's something I worry about a little, because of the impression pink covers could possibly give - that the book is light and fluffy, when that may not be the case - and the possibility of them dissuading guys from read them. It seems ok for girls to read guys' books, but the other way round it's not so cool, it seems. It's sad.
When I mentioned this to Lindsey, she said
"The reason I got thinking about this [guest post] was because of the book HOW TO SAY GOODBYE IN ROBOT by Natalie Standifer. Have you seen the US cover? It's pink, but the story could appeal to boys and the cover, in my opinion, doesn't exactly do it justice. I recommend it to people and say 'Ignore the pink'. But, as I pointed out, I believe pink has it's place and my book is perfect for pink."

What are your thoughts on pink covers? Remember, Lindsey will be popping over to discuss this with you :)