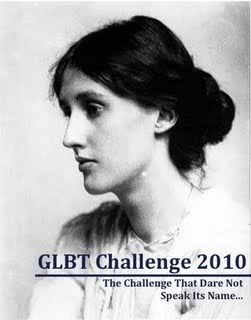 I've decided to join another reading challenge for 2010. This time it's
The Challenge That Dare Not Speak Its Name
- a GLBT challenge, run by blog
GLBT Reading
.
There are several levels to this challenge, each with a different number of books to read. I've chosen to go for the Pink Triangle Level, which is 8 books, as I've signed up for two other challenges already. Don't want to overload my plate.
ETA:
Chosen all my books now; thanks to all for recs and links to lists! Really appreciate it!
The rules state that books can cross over from other challenges, so I have a few I can name already.
These are the books I'll be reading.
1. Sprout by Dale Peck
2. Boy Meets Boy by David Levithan
3. Between Mom & Jo by Julie Anne Peters
4. The Bermudez Triangle by Maureen Johnson
5. My Heartbeat by Garret Freymann-Weyr
6. Let the Right One In by John Ajvide Lindqvist
7. Annie on My Mind by Nancy Garden
8. The Year They Burned the Books by Nancy Garden