Over the eight months in which I've been book review blogging on blogger, I have accumulated a fair amount of book swag, as you can see.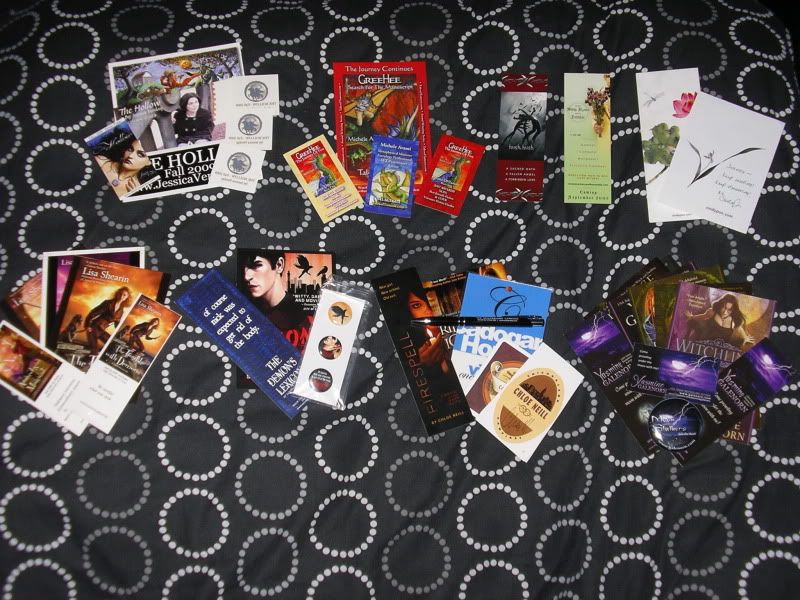 Click image for a larger view.

13 Postcards
9 Bookmarks
5 Business Cards
4 Badges/Buttons
4 Signed Bookplates (one seen, others in books)
3 Temporary Tattoos
2 Stickers
1 Coaster
1 Vistor Pass
1 Pen
This is not including bookmarks I have received with book swaps (or any other bookmarks). I may not have an awful lot compared to some other bloggers, but it is enough that my swag folder (in which I also store the book press releases I receive) is a bulging a little.

Click image for a larger view.
Bookmarks, pen and book plates, I know what to do with, but everything else... I'm at a loss. They stay in the swag folder. I've heard some people give away their swag in contests, but I've won my swag, or was gifted it from an author - I don't want to give it away. But I don't know what to do with it all.
What do you do with your swag, other than give it away? Any suggestions?
Also, what do you like receiving when you get swag? Or what rare items have you received/been received by someone you know as swag?
Authors, what swag/promo material do you get/have made to promote your books? What do you find is most popular?
Any other thoughts on swag? Talk as much swag as you like! :)