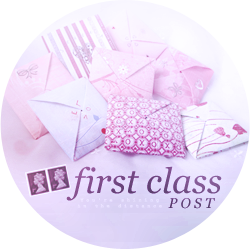 First Class Post - because this post is first class!
So this is going to be a little different than usual. I have been working on this post all month, updating it as needed, and then I accidentally deleted it all. And so I'm just going to list everything without commentary, because I cannot remember everything I said before, and it would just take me far too long. So apologies for the less informative post than usual.
Books Purchased:

Physical copies:

The Star-Touched Queen by Roshani Chokshi (28th March 2017)
Fool's Quest by Robin Hobb (28th July 2016)
Sofia Khan is Not Obliged by Ayisha Malik (3rd September 2017)
Shatter Me by Tahereh Mafi (2md October 2012)
Furthermore by Tahereh Mafi (1st September 2016)
Queens of Geek by Jen Wilde (14th March 2017)

eBooks:




The Unforgettables by G. L. Thomas (13th September 2016)
So This is the End by Alexandra Franzen (December 2016)

Borrowed:
Assassin's Fate by Robin Hobb (4th May 2017) (Not pictured because it's been returned.)

Books Received for Review:
Books with an * are reading copies I received as a book seller.

Finished Copies:
The Lines We Cross by Randa Abdel-Fattah* (4th May 2017) (Not pictured, because I forgot it! Sorry!)
Proofs:

The Spellbook of the Lost and Found by Moïra Fowley-Doyle (1st June 2017)
The Gentleman's Guide of Vice & Virtue Mackenzie Lee (27th June 2017)
The Secret History of Us by Jessie Kirby (1st August 2017)

eARCs:




Words on the Bathroom Wall by Julia Walton (4th July 2017)
Odd & True by Cat Winters (12th September 2017)
None of the Above by I. W. Gregorio (4th April 2017)




The Way It Hurts by Patty Blount (1st August 2017)
Before I Let Go by Marieke Nijkamp (23rd Januray 2018)
The Girl With the Red Balloon by Katherine Locke (1st September 2017)




Mask of Shadows by Linsey Miller (29th August 2017)
Water in May by Ismée Amiel Williams (12th September 2017)
The Epic Crush of Genie Lo by F. C. Yee (8th August 2017)

Thank you to Scholastic, Corgi Children's Books, Harper360, and Random House Books for Young Readers, Amulet Books, Balzer + Bray, Sourcebooks Fire, and AW Teen via NetGalley for the review copies.

Check out mail memes: The Sunday Post on Caffeinated Book Reviewer and Stacking the Shelves on Tynga's Reviews.

---------------------------------------
On the blog
Reviews:
Discussions:
A Diversified Bookcase:
A Diversified Bookcase is a feature I run where authors of diverse YA novels recommend other diverse YA novels, to either us readers or their own characters.
Other Posts:
---------------------------------------


What I've Been Reading Online:

Ramadan Readathon:
I don't normally separate certain bloggers' posts, but there are a few posts on this particular event that I wanted to highlight. The Ramadan Readathon is a month long event being held in June by Nadia or
Words Beneath the Wings
and Zoya of
We Are All Critics
, with the purpose of reading and highlighting Muslim authors. Do check out the following posts.
Cover Reveals:
Excerpts:
Books:
Authors:
Bloggers:
--
If you enjoyed this post, feel free to follow me on:
Bloglovin' | Twitter | Instagram