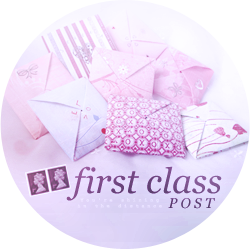 First Class Post - because this post is first class!
Books Purchased:

Physical copies:

The Love that Split the World by Emily Henry (26th Jan 2016)
Wintersong by S. Jae-Jones (7th Feb 2017)
Perrault's Fairy Tales by Charles Perrault (5th Nov 2004)
Feminist Fairy Tales by Barbara G. Walker (1st Jan 1996)
I'm thinking about starting a feature where I look at fairy tales and how they have evolved from the original story to the various retellings. Perrault wrote some of the fairy tales we think of as being by the Brothers Grimm, and with Feminist Fairy Tales, I have more retellings! :)
eBooks:


Salt. by Nayyirah Waheed (24th Sept 2013)
Nejma by Nayyirah Waheed (17th June 2014)
Bone by Yrsa Daley-Ward (16th June 2014)
All of these were free on Amazon the past week, so I didn't actually "buy" them.
Books Received for Review:
Books with an * are reading copies I received as a book seller.

Proofs:

Juniper Lemon's Happiness Index by Julie Israel* (13th July 2017)

Finished Copies:
These links go to the publisher's website, Abrams Noterie.
Breakfast at Tiffany's Journal
Breakfast at Tiffany's Notebooks (Set of Three)
Breakfast at Tiffany's Notecards
This or That Journal by Kate Schelter
This or That Notebooks (Set of Three) by Kate Schelter
This or That Notecards by Kate Schelter
These will be reviewed on Jo Scribbles.
eARCs:


The Upside of Unrequited by Becky Albertalli (11th April 2017)
One Of Us Is Lying by Karen M. McManus (1st June 2017)

Thank you to Abrams Noterie and Penguin Random House for the review copies/eProofs.

Check out mail memes: The Sunday Post on Caffeinated Book Reviewer and Stacking the Shelves on Tynga's Reviews.

---------------------------------

On the Blog
Reviews:
A Tragic Kind of Wonderful by Eric Lindstrom was just brilliant! It's about living with bipolar, it's about grief, it's about friendship - with all kinds of people, young and old, and how complicated it can be - and it's about romance. I felt so much for Mel! And this book normalises periods! I love this book! Eric Lindstrom is now one of my auto-buy authors.
Discussions:
Reading Next:

So how has your week been? What did you receive this week? And what are you reading next? Link me up to your Sunday Post & Stacking the Shelves posts!