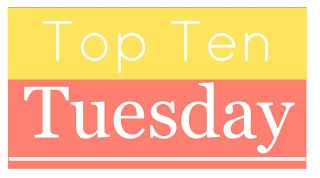 Top Ten Tuesday is a weekly meme run by The Broke and the Bookish. This week's topic is Top Ten Authors I've Read The Most Books From.
I really, really, really like this topic! Long before I started blogging there were several authors I fell in love with, and a few more I've discovered along the way, so I love that I get to rave about them! A good excuse to take awesome photos of my books, too.
David Eddings - 19
David Eddings is the reason I read. Without him, this blog probably wouldn't be here, I probably wouldn't have read any of the following books, and I would have lived a life without much imagination. So I am hugely grateful for Eddings, and so happy my dad forced me to read Pawn of Prophecy when I was... 12!
Books read:
The Elder Gods
, the first in
The Dreamers
, but for some reason I never finished it. Must rectify that.
Rachel Caine - 18
So, a short while before I started blogging, I had to read The Twilight Saga by Stephenie Meyer for my Young Adult Fictions module at uni. These books introduced me to urban fantasy, and Amazon recommended all these other books based on that new love. Rachel Caine's Morganville Vampire was one of them, and I instantly fell in love with Claire and Morganville!
Books read:
Undone
, the first in the
Outcast Season
,
Working Stiff
, the first in the
Revivalist series
,
Devil's Bargain
, the first of the
Red Letter Days duology
, and
Ink and Bone
, the first of the
Great Library series
to read! More catching up to do!
Robin Hobb - 15
Oh, how I love Hobb! I adore her books,
adore
them! And I love how she has so many original, fresh, unpredictable stories all set in the same high fantasy world! Can't get enough of Fitz and the Fool! (The photo isn't as awesome as I thought it was originally. Sorry about that.)
Books read:
So
looking forward to the sequel to Fool's Assassin, Fool's Quest! Hobb has another series,
The Soldier Son Trilogy
, but I didn't finish the first book,
Shaman's Crossing
. It bored me at the time, but I'll finish it at some point.
Rachel Vincent - 14
Rachel Vincent was another author Amazon suggested to me once I got into urban fantasy. I loved the Shifters, about werecats as some might describe them, and everything that followed! Such a massive fan of Vincent, I want to read
everything
!
Books read:
Shadow Bound
, though I've not yet read it. Also really excited for
Lion's Share
, the first in her new NA
Wildcats series
(a follow up series to the Shifters that she's self-publishing), and getting my hands on
The Stars Never Rise
, the first book in Vincent's
new YA series
, and
Menagerie
, the first in her
new adult series
.
Jeaniene Frost - 11
Yet again, another urban fantasy author Amazon recommended, and OH MY GOD, do I love Jeaniene Frost's books! All the books I've read so far are all set in the same world, with books starring side characters of those in her Night Huntress Series - about a half-vampire who kicks bad-vampire butt! Amazing!
Books read:
Bound by Flames
, which I'm excited about. I have to say, I do not like the covers for the books in the Night Huntress World or Night Prince series. They're too sexy. Yes, they are a bit more paranormal romance-y than the Night Huntress books, but not so much they need to ooze sex on the covers. I find them so cringey! Just look at them! But look at the cover with Cat on, on the left. Kick-ass cover, as are all the others. Not cringey. Siiiigh. Excited to get my hands on
The Beautiful Ashes
, the first book in Frost's
Broken Destiny NA Series
.
(Side note: Arrrgh RE
The Beautiful Ashes cover being changed
! Ok, yes, if they want to "at a glance" make readers aware that the book has sexual content in it, fine, but god. NA doesn't
have
to be sexually explicit! It's not necessary! I'm put off by most NA now because of how they seem to be full of sex. Give me more story, PUR-LEASE! So, although I'm looking forward to The Beautiful Ashes, I'm a little nervous about it, too, now. We'll see, I guess.)
J.K. Rowling - 10
Had to mention J.K. Rowling, didn't I? Just had to. Not really much to say: Harry Potter is awesome!
Books Read:
I do have
The Casual Vacancy
, but I'm yet to read it.
Freya North - 9
I first discovered Freya North when a copy of Pip (that you can just see hiding in the photo) came free with a magazine. I instantly fell in love with the romantic comedy, and have sought out all her others for a while. This was a long before I started blogging, though, so I haven't reviewed any of them. Perhaps a re-read is in order - especially of Pip as it's still my favourite!
Books read:
Secrets
and
Chances
, but I've yet to read them. This makes me so sad, because North has released several other novels too -
Rumours
,
The Way Back Home
and
Turning Point
- and I need them all! Also, if someone wants to buy me all the books in their beautiful wavey matching covers, I might just love you forever.
Karen Chance - 8
Yup, another Amazon recommendation. Amazon was really good to me all those years ago. Karen Chance writes absolutely brilliant, fast paced urban fantasies jam-packed with action about various supernatural creatures. Both series are set in the same world, but both main characters, for the most part, never cross paths, but still know the same people. You don't get a moment to rest with these books, there's always something going on, always the possibility that someone might die in any given moment. I LOVE THEM!
Books read:
Lauren Oliver - 7
Oh, how I love Lauren Oliver for her awesome storytelling and brilliant writing! She is amazing!
Books read:
Rooms
, Oliver's first first adult novel,
The Vanishing Girls
, another stand-alone YA, and
Curiosity House: The Shrunken Head
, Oliver's soon-to-be-released MG written with H.G. Chester., to read, which I am excited about!
Tammara Webber - 7
My favourite NA author! And the only one I've come across so far who doesn't saturate every chapter with sex. There's always a story, normally one with serious topics with at it's heart or woven into the romance plot. They do seem to be getting a little racier, Sweet has probably been the raciest so far, which makes me slightly uneasy when I think about future books, but the story surrounding it all is always just so brilliant and fantastically told. I love Webber, I really do.
Books Read:
I am behind on so many books, it's not even funny! So what about you? Have you read any of these authors? Or any here you'd like to? Who have you read the most of? Link me to your posts! :)