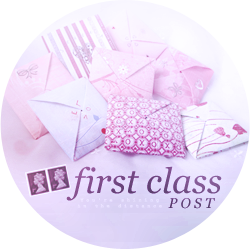 First Class Post - because this post is first class!


Check out Sunday mail memes:
Showcase Sunday on Books, Bisuits and Tea
The Sunday Post on Caffeinated Book Reviewer.
Review copies:
Marly's Ghost by David Levithan
- I was really looking forward to this, but now I've read it, I'm afraid to say it wasn't my bad. Review below. Also came with some heart sweets - look at the cool packaging!
Lies We Tell Ourselves by Robin Talley
- I have heard such awesome things about this book, and I am so excited to read this! I'm sure it's going to be amazing!
Vanishing Girls by Lauren Oliver
- I haven't heard a huge amount about this book, but I am a HUGE fan of Oliver, so I'm looking forward to reading this! :)
Thank you to Electric Monkey, MiraINK and Hodder & Stoughton for the review copies.
-------------------------------------------------
Inspired by Faye of
A Daydreamer's Thoughts
's
Weekly Recap
, here is a recap of my posts over the last week, and anything else I found interesting.
Reviews:
Three books read and reviewed this week.
Replica by Jack Heath
is a brilliant fast-paced and action-packed YA sci-fi thriller! It's so, so good!
Marly's Ghost by David Levithan
, a remix of Dickens' A Christmas Carol, sadly wasn't my cup of tea.
Finding a Voice by Kim Hood
is an absolutely beautiful and moving story of friendship, involving disability and mental illness - one of the books shortlisted for the YA Book Prize 2015.