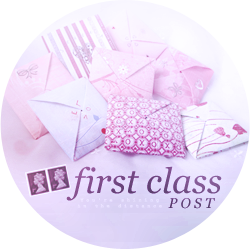 First Class Post - because this post is first class!


Check out Showcase Sunday over on Books, Bisuits and Tea.
Only one book received this week, but I'm pretty happy about it.
For review:
Breakable by Tammara Webber
- EEEE! A new Tammara Webber! The companion novel to Easy! Reading it now, and it's awesome! Really loving it! Was sent it by the request of Tammara Webber, which is just awesome! :)
Thank you to Penguin/Tammara Webber for the review copy!
-------------------------------------------------
Inspired by Faye of
A Daydreamer's Thoughts
's
Weekly Recap
, here is a recap of my posts over the last week, and anything else I found interesting.
There was no First Class Post last week, so this is a two-week recap.
Reviews:
In the past two weeks, I read two LGBTQ YA novels, and DNF another, so that brought my final total of posts for LGBT+ April to 11. I was let down by
Adaptation by Malinda Lo
, which I felt was really predictable, I absolutely loved
Aristotle and Dante Discover the Mysteries of the Universe by Benjamin Alire Sáenz
- so, so good! I didn't finish
The Gravity Between Us by Kristen Zimmer
, which really didn't work for me.
I also read picture board book
My Mummy Says... by Justine Smith and Angie Stevens
, which was cute. I also read
Thirteen Reasons Why by Jay Asher
- absolutely incredible! I loved it!
Other posts:
Tom Sanderson stopped by the blog to talk about the
process of designing the UK covers for the Elemental series by Brigid Kemmerer
, for A Novel Cover Up for the blog tour.
Yesterday was my stop on the Count Down to 5th June blog tour, and
Sarah Sky stopped by to talk about her debut novel, Code Red Lipstick
.
Posts elsewhere:
Last week, I had a
staff blog post go up on the Foyles website on why I, as an adult, read YA
.
Leah of
Uncorked Thoughts
and Ula of
Blog of Erised
are hosting the
Mental Health Awareness Month June 2014
. The aim is to raise awareness of mental health by reading and reviewing/discussing books that talk about Mental Health in June.
Finally, my Mum and I will be taking part in Race for Life on 28th June to celebrate the fact that my Nan is now in remission from lung cancer. If you would like to sponsor us, please go to our
Just Giving Page
. Thank you.