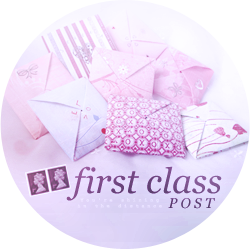 First Class Post - because this post is first class!


Check out Showcase Sunday over on Books, Bisuits and Tea.
For review:
My Mummy Says by Justine Smith and Angie Stevens - This is a cute looking board book. Illustrations look cute! (Not on Goodreads.)
The Wilderness by C. J. Harper
- Unsolicited and I haven't yet read the first one, but it did sound awesome! Hopefully I'll enjoy the first, and can happily dive into the second.
Other Bound by Corinne Duyvis
- I am so intrigued by this book! Mixing up our normal world with a sci-fi one! So clever! I love the idea of "being" someone else in your sleep. I'm sure it's going to bring up some awesome gender themes! And there are LGBTQ characters in it too. Really looking forward to this debut!
Losing It, edited by Keith Gray
- I'm going to be reading this for SiTL Month II! I've wanted to read this book for ages, so I'm so excited to get the chance to now! :)
Storm by Brigid Kemmerer
- The UK edition!!! SO EXCITED that this book is FINALLY being published here! SO AWESOME! Read my review
here
.
ttyl by Lauren Myracle
/
ttfn by Lauren Myracle
/
l8r, g8r by Lauren Myracle
- Really excited to read this series!
NetGalley:
Tape by Steven Camden
- I AM SO EXCITED TO HAVE THIS! It looks amazing! If I understand the description properly, it reminds me of The Lake House! (Not pictured.)
Bought:
Thirteen Reasons Why by Jay Asher
- I received a gift card from work for a blog post I wrote, so I bought this! I've seen so many rave reviews for this book, I thought it was about time I read it myself.
Thank you to Pan Macmillan, Simon and Schuster Children's Books, Abrams and Chronicle, Anderson Press, Much-in-Little, and HarperCollin's Children's Books via NetGalley for the review copies.
-------------------------------------------------
Inspired by Faye of
A Daydreamer's Thoughts
's
Weekly Highlights
, here is a recap of my posts over the last week, and anything else I found interesting.
No reviews this week, but a lot of other exciting things have been happening!
Books read:
I read 2 books this week. I finished Trouble by Non Pratt - which is amazing - but I'm saving my review of Sex in Teen Lit Month II. I also read Dreams of Gods and Monsters by Laini Taylor, which is absolutely incredible! Oh my god, you have no idea! Review will come shortly, sometime over the next few days.
Other posts:
This Wednesday was my fifth Bloggerversary, and I have been celebrating with a week's worth of posts:
A Week Long Celebration
Blogging Milestones
Bloggerversary Giveaway
(which you still have time to enter!)
A Look Back Over My Blog Events
A Look at A Novel Cover Up
Discovering the New
Your Feedback
I also posted a movie review of teen LGBTQ comedy
G.B.F.
, an important and seriously funny movie, and
my interview with Director Darren Stein
.
You can also enter my
giveaway to win tickets to the European Divergent Premiere
! Yes, you read that right! Go get entering, giveaway closes on Tuesday!