So, earlier this week you might have seen me talk about the exciting opportunities that have come my way as a blogger? Well another one came on Friday. I've only been offered tickets to the DIVERGENT MOVIE PREMIERE!!! Yes, you read that right! And what's more, YOU can win tickets to the premiere too! Read on!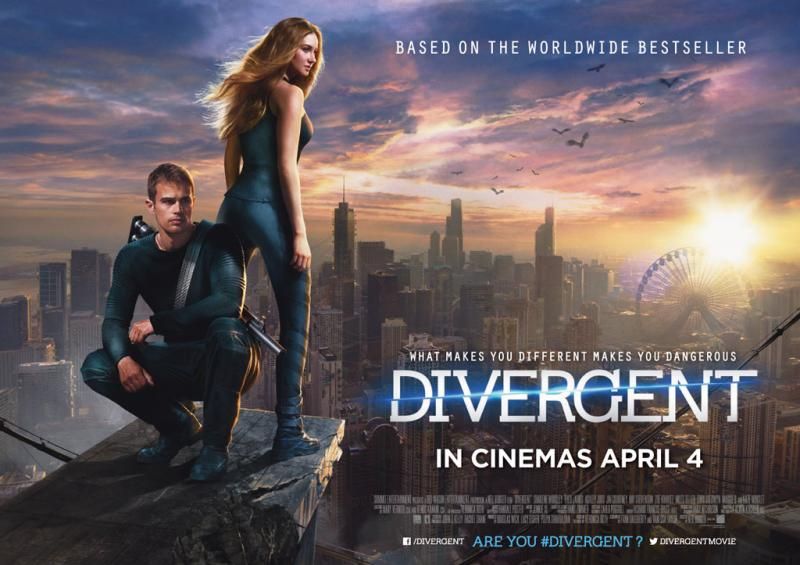 Would you like to experience the world of the hotly anticipated DIVERGENT movie in Leicester Square and attend the EUROPEAN PREMIERE?
On Saturday March 29th and Sunday March 30th Leicester Square will be transformed into the dystopian world of DIVERGENT, where fans will be invited to undergo initiation tests and, like Tris Prior, choose where they belong. Would you survive in Dauntless? Fans will be put through their paces with Dauntless training to see if you are brave enough to join their faction! (Free for anyone to attend.)
But that's not all – I have a pair of tickets to giveaway for the European premiere of DIVERGENT at
Odeon Leicester Square
on the
Sunday at 1.30pm
, attended by stars of the film Shailene Woodley, Theo James and Kate Winslet! So not only can you discover the world for yourself, you can walk the red carpet, mingle with the stars and watch the film before it's released in the UK!
Enter here for your chance to win this once in a lifetime experience. If you aren't lucky this time, you are still in with a chance – get down to
Leicester Square
early as there will also be a limited number of premiere tickets given away to fans on both days.
The Divergent Fan Experience Timings
Saturday March 29th 11.00am – 6.00pm
Sunday March 30th 11.00am – 12.00pm and 3.00pm – 6.00pm
Premiere timings for the ticket winner.
Sunday March 30th
Doors open – 1.30pm
Doors close – 2.30pm
Film starts 3.00pm
DIVERGENT is released April 4th, and you can follow the news on facebook, and twitter. Look out for hashtag #Divergent
Rules/Details:
Enter the giveaways to one pair of tickets to the European Premiere of Divergent.
Enter to win by filling in the form below.
Open to entrants from the UK only.
One entry per person. Multiple entries will be deleted.
Anyone under 18 must be accompanied by a parent or guardian.
You need to cover your own travel expenses.
You MUST be available on Sunday 30th March, and be able to make your own way to London.
One winner.
Giveaway closes on 25th March at 11.59pm.
The winner will be chosen via Randomizer and will be announced on 26th March.
The winner's email addresses will be passed on to my contact at The Big Shot, who will arrange fulfillment.
Please read my Privacy & Contest Policies.
***GIVEAWAY NOW CLOSED***