Thanks to the wonderful Mindy McGinnis, I have a cool swag giveaway for you! Mindy's debut novel,
Not a Drop to Drink
, is a YA post-apocalyptic survival story set in a near-future world where freshwater is almost non-existent and will be published later in the year on 10th September. And it sounds
awesome
!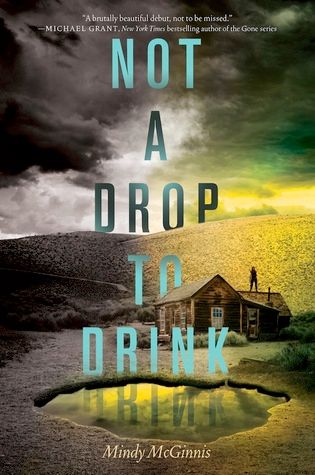 Not a Drop to Drink by Mindy McGinnis
-
Regret was for people with nothing to defend, people who had no water.

Lynn knows every threat to her pond: drought, a snowless winter, coyotes, and, most importantly, people looking for a drink. She makes sure anyone who comes near the pond leaves thirsty, or doesn't leave at all.

Confident in her own abilities, Lynn has no use for the world beyond the nearby fields and forest. Having a life means dedicating it to survival, and the constant work of gathering wood and water. Having a pond requires the fortitude to protect it, something Mother taught her well during their quiet hours on the rooftop, rifles in hand.

But wisps of smoke on the horizon mean one thing: strangers. The mysterious footprints by the pond, nighttime threats, and gunshots make it all too clear Lynn has exactly what they want, and they won't stop until they get it….

With evocative, spare language and incredible drama, danger, and romance, debut author Mindy McGinnis depicts one girl's journey in a barren world not so different than our own.
From Goodreads.
How amazing does it sound?! I am so excited to get my hands on a copy once it's released! And thanks to Mindy, I have a swag pack for one of you lucky people to win. The pack includes a postcard, a bookmark, a business card, and a bottle sticker! (Please excuse the quality of this photo, I couldn't get a good one. But believe me, the swag is BEAUTIFUL!)
Read on to find out how you can win!
Rules/Details:
Enter by filling in the form below.
One entry per person. Multiple entries will be deleted.
Open to entrants from the UK only.
One winner.
Contest closes on 30th March 2013 at 11.59pm.
The winners will be chosen via Randomizer.org and will be announced on 31st March 2013.
The winner's contact info will be passed on to my contact, who will send out the prizes.
Please read my Privacy & Contest Policies.