Here's your bookish news from the past week.
First up cover reveals. The
Delirium Facebook Page
has revealed the UK cover for
Requiem by Lauren Oliver
: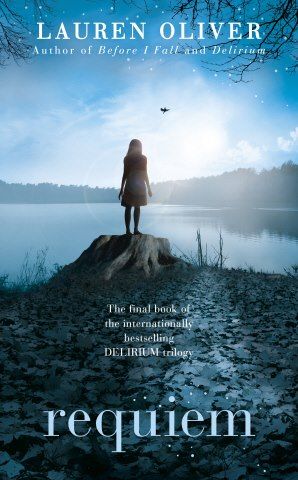 ISN'T IT JUST BEAUTIFUL?! Ohhh, I am so excited to read this!
Next. This isn't from the past week, but I only just found it this past week, so. Jeaniene Frost has
released the cover
for
Twice Tempted
, the second book in her Night Prince trilogy (Yes, trilogy! There will be a third book! Hurrah!):
What do we think? Personally, it's not to my taste. Sure, Frost's novels can be a little sexy, but it's not
all
sexy. This cover says to me "a book that's full of sex". It's the kind of cover that embarrasses me when I think about reading it on the train. I am not a fan of sexy covers! Put some damn clothes on, Vlad! Ahem, moving on...
Here's the description:
Dating the prince of darkness has its challenges.

Leila's psychic abilities have been failing her,and now she isn't sure what the future holds. If that weren't enough, her lover Vlad has been acting distant. Though Leila is a mere mortal, she's also a modern woman who refuses to accept the cold shoulder treatment forever–especially from the darkly handsome vampire who still won't admit that he loves her.

Like choosing between eternal love and a loveless eternity.

Soon circumstances send Leila back to the carnival circuit, where tragedy strikes. And when she finds herself in the crosshairs of a killer who may be closer than she realizes, Leila must decide who to trust–the fiery vampire who arouses her passions like no other, or the tortured knight who longs to be more than a friend? With danger stalking her every step of the way, all it takes is one wrong move to damn her for eternity...
Despite the cover, it sounds SO GOOD! I am super excited for this book and to hear there will be a third book too! More Vlad! :D
---------------------------------------------------
News from Hot Key Books. First, New Adult news:
The New & Uncut edition of THE VINCENT BROTHERS is now available to download on Kindle and iTunes – and for only 99p for a very limited time! Get involved on the tumblr site and send a festive Vincent eCard to your friends, or just escape from the Christmas madness to the Alabama sun…
Next, a writing project for children:
HOT KEY BOOKS AND FLEUR HITCHCOCK LAUNCH FREE INTERACTIVE WRITING PROJECT FOR CHILDREN

Hot Key Books has launched 'Fleur Hitchcock's Story Adventure', a free interactive writing project running between 21 January and 13 May 2013 aimed at children aged 7-11 years, to help author Fleur Hitchcock write the sequel to SHRUNK!, The Sunday Times Children's Book of the Week.

Using a secure site hosted on a Ning community platform, www.thestoryadventure.com will launch on 11 December 2012 when children can pre-register and read Fleur's prologue for the book and put forward ideas for the title. Fleur will then post her first chapter on 21 January 2013 and invite children to answer questions and complete off-screen activities. The best ideas will be incorporated into the following chapter, with a new chapter every Monday until 13 May 2013. The final book is due for publication in January 2014.

The project and associated activities have been devised with the help of primary school teachers to ensure that it fits into the KS2 curriculum. Children who offer outstanding contributions to the project will earn a place on the Star List and have their names included in the book. There will also be an opportunity to win a school visit from the author for the most active school. The book will be available for pre-order on the site, as well as tickets to the book launch party.
Read the
press release
for more info.
---------------------------------------------------
Puffin shares some dystopian news -
Prodigy
, the sequel to Legend by Marie Lu, is being released at the end of next month!
You can read the first chapter of Prodigy
here
.
You can watch the book trailer...:



...and the game trailer:


---------------------------------------------------
RHCP has some news about Malorie Blackman:
We are very excited to announce that on Tuesday 18th December, you will have the opportunity to take part in a live webchat with Malorie Blackman on our Facebook page, Fiercebook! Malorie will be answering all of your questions between 5pm and 6pm, so make sure you log on and post your question on the Fiercebook wall either before or during the session!
---------------------------------------------------
News from Scholastic US about trends for 2013:
SCHOLASTIC EDITORS FORECAST TOP 10 TRENDS IN CHILDREN'S BOOKS FOR 2013

The editors at Scholastic have been publishing, curating and distributing award-winning books for children for decades, and have become experts at predicting exactly where kids' book interests will go next. Today, the editors of Scholastic Book Clubs and Scholastic Book Fairs, along with editors in the Trade Publishing group, present their list of top ten trends in children's books for the coming year.
Read the
press release
for more info.
---------------------------------------------------
News from Kensington:
KENSINGTON PUBLISHING CORP. ANNOUNCES THE LAUNCH OF ITS eKENSINGTON BOOKS IMPRINT

Laurie Parkin, Vice President, Publisher, Kensington Publishing Corp announces the launch of eKensington, a new digital imprint that will publish both new, original works and classic titles from Kensington's rich backlist. eKensington will publish in many genres, including: women's fiction, romance, urban fantasy thrillers and mystery among others.
Read the
press release
for more info.
---------------------------------------------------
A Christmas deal from Astor and Blue:
Astor + Blue Editions—is putting its entire inaugural list of titles on sale: From now until January 7th, all the titles will be priced between $0.99 and $1.99 at every retailer (Please see the catalogue - The list includes thrillers, literary fiction, classic, romances and non-fiction).